Graciela and Lucía, inciting systemic change for missing persons in Mexico
On 14 August 2012, Graciela Pérez Rodriguez's family vanished off a highway in Tamaulipas, in north-eastern Mexico. Her 13-year-old daughter, older brother, and three nephews were returning from a road trip to the United States, but they never arrived home.
On 28 June 2013, Lucía Díaz's 31-year-old son, Luis, disappeared in the city of Veracruz on Mexico's Gulf Coast. Armed men broke into his home and kidnapped him. A well-known local DJ, Luis has not been seen since.
These disappearances, in separate states and a year apart, thrust Graciela and Lucía onto the front lines of a growing humanitarian crisis throughout Mexico. The disappeared have swelled to the tens of thousands in recent years, while a lack of faith in the authorities to find them has created growing pressure from grassroots activists seeking justice for their lost loved ones.
Graciela and Lucía have since turned their personal grief into collective action. They organised collectives with other families of the missing to scour the countryside in search of mass graves, to stage protests and raise awareness about the ongoing epidemic of disappearances in Mexico, and to put pressure on the Mexican authorities to address the growing problem.
Since beginning their campaigns several years ago, these on-the-ground efforts have led to the discovery of dozens of mass graves, while their activism has brought legal change and drawn national and international attention to the human rights catastrophe of Mexico's disappeared persons. Their work has helped foster communities of mutual support, uniting, inspiring, and mobilising others to take part in this citizen-led struggle for truth and justice in Mexico.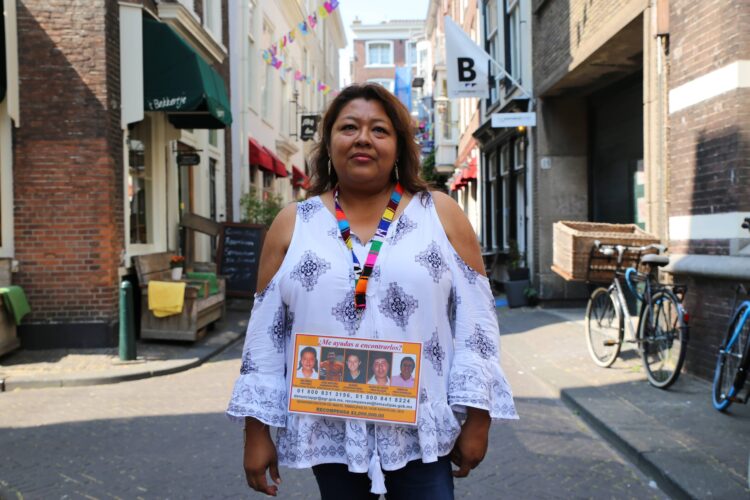 When her family did not arrive from the highways of Tamaulipas to their home in San Luis Potosí, Graciela initially thought that there may have been an accident. She and her sister contacted the police. The officers told them it was likely a kidnapping—a common occurrence along those routes—and to maintain a low profile until they received further contact to avoid further risk.
"It was difficult for us as a family to agree whether or not we should go out and look. We didn't know exactly what was happening." Graciela tells Justice and Peace. "We didn't know how to file a police report or how to talk to the military."
They listened to the police and waited nine days. When Graciela returned to the authorities, she was told that they had found nothing, and there was little they could do. The authorities suggested that Graciela contact the military.
"I realised that nobody is going to look for them, so we need to do it ourselves."
Lucía had a similar experience the following year. She went to the police after her son was kidnapped in Veracruz, but she was also told to go home and wait.
"I thought that when I said I couldn't find my son and that I suspected he might be missing, the reaction would be an automatic activation of the authorities." Lucia tells Justice and Peace. "Now I think that if I had said it was a robbed vehicle, they might have done more than they did in those moments."
Lucía filed reports, along with a few regional ineffective alerts, and managed to get the police to pay several small visits. "It all felt like empty gestures rather than legitimate attempts to search for my son."
Graciela remembers a similar feeling of helplessness that grew with each failed visit to officials. In one a meeting, she said she saw a large pile of papers sitting on the desk. She asked the official if all the files contained missing persons reports, and he casually confirmed that indeed they did.
"So," she remembers thinking, "my file is going to be at the bottom of that massive mountain?"
Civilians in the crossfire
Cases of disappeared persons have piled up on desks across Mexico, though many others are likely not reported at all. A national database run by the federal government now recognises over 40,000 cases of missing individuals in the country. Graciela says her five missing family members were not in the system when she last checked, and both women believe the true number of disappeared in Mexico to be much higher.
"In some Mexican states, researchers place impunity for violent crimes close to 100%."
Disappearances and homicides began to skyrocket in Mexico after 2006 when the central government declared war on the country's notorious drug cartels. The criminal groups had grown significantly during the 1990s, carving out their territory and trade routes into the lucrative U.S. drug market—a vacuum left by the downfall of their Colombian counterparts. The Mexican government's crackdown and the ensuing conflict has since resulted in brutally violent and destabilising turf wars that have frequently implicated political and security officials, catching civilians in the crossfire. Mass graves, bodies dangling from bridges, and victims dumped along the roadside have become regular news in Mexico, where reports estimate 200,000 murders have taken place since the drug war began.
The numbers are also rising. 2018 was the most violent year since the government began publishing the statistics, while the first trimester of 2019 has been the most violent in the history of Mexico, according to official numbers.
With heavily implicated law enforcement and government officials, the drug war has significantly eroded civilian trust in the effectiveness and trustworthiness of the government in the face of growing violence. In some Mexican states, researchers place impunity for violent crimes close to 100%. In the headline-grabbing 2014 mass kidnapping and murder of 43 students in Iguala, near Mexico City, local authorities were widely thought to have played a central role. After a series of forced disappearances in Nuevo Laredo, near the US-Mexican border, the U.N. Human Rights Office placed blame on the federal security forces.
With corruption or coercion so common, official investigations into the murders and disappearances are often weak and superficial. In the face of this widespread inaction, Graciela and Lucía, along with other grieving families across Mexico, have decided to take it upon themselves to find their loved ones, fighting for justice and human rights in a country where both are quickly vanishing.
Collectives for change
After local authorities in Tamaulipas proved unhelpful, Graciela began to speak with the military officials who have increasingly replaced local and state police on the front lines of the country's drug war. From there she received several small leads, which she began to pursue. Before long, she would find her first human remains.
"We hadn't originally been looking for clandestine graves, dead people, and remains, but in less than a month, we found the first grave with more than 13 bodies. Along the way, we also found many other families; we didn't begin as a collective—just broken families looking together looking for our disappeared."
The collective, which would take the name Milynali Red CfC after Graciela's missing daughter, began to find more mass graves. Without professional training, the collective had to develop their own tools and methods. As their focus increasingly shifted toward uncovering and identifying human remains, the need for greater training in forensic identification became apparent. Graciela was put in touch with Ciencia Forense Ciudadana (Citizen Forensic Science), with whom she began collaborating to help learn better identification techniques for human remains. She says the group was helped by the International Red Cross, who invited a forensic anthropologist to train them in the protocol of identification.
"I thought 'wow, this is what we need'." Graciela remembers. "DNA is very important in all this—not a panacea, but very important. Before, nobody talked about forensic investigations or DNA."
Citizen Forensic Science eventually established the citizen-led National Citizen Registry of Disappeared Persons (Registro Nacional Ciudadano de Personas Desaparecidas), which maintains a forensic database to help identify the disappeared in Mexico. Family members of missing individuals submit DNA samples to a biobank, which is checked against the remains found by activists in the field. Graciela led the first of these biobanks in Tamaulipas, the state where her family disappeared, and which continues to suffer significant violence.
Forensic evidence is just one tool among many that Graciela uses in the hunt to find her family and other disappeared, although she stresses that it is not the only one. She has interviewed dozens of criminals, combed hundreds of parcels of land, and followed clues to uncover over 50 mass graves in the south of Tamaulipas alone. She says that her collective's efforts to find the disappeared has caught observers off-guard, challenging the expectations and taboos around the families of the disappeared.
"Nobody at that time was really prepared to believe that the families were capable of doing something. The idea was that families only cried, that they're only victims."
Taking action beyond the system
Like Graciela, Lucía felt that she had exhausted the official channels in the hunt for her missing son. She also decided to take action.
"I realised that you need to put up a fight. If someone wants something done in Mexico, in terms of human rights, human life, you have to do it yourself. You don't have an answer from the authorities; that's not how it works."
In 2014, she began Colectivo Solecito de Veracruz along with a small group of other mothers in the increasingly violent coastal state. The women held raffles and sold personal belongings to raise money to finance their searches, becoming increasingly visible in the community as their group swelled in numbers. The collective now includes over 200 members working to comb the countryside for bodies, raise money for their efforts, shed light on official omissions, and help join victimised families together for mutual support.
In 2016, the group received a significant break when an anonymous source gave them a hand-drawn map of dozens of burial pits. Following the map to some sand dunes beyond a middle-class neighbourhood and near a cattle pasture, they began to find human remains. The citizen investigators employed a metal rod technique used by other collectives as well, in which they test the ground to see if it feels hollow, then smell the pole for signs of decomposition—then they dig. With that tipoff and their hard work, the group has since found nearly 300 bodies at the site, now known as Las Colinas de Santa Fe, making it one of the biggest discoveries of mass graves in Mexican history.
Beyond the field, Colectivo Solecito has fought for more systemic change. They have used their visibility and activism to join the countrywide push for the General Law of Forced Disappearances, which came into effect in late 2017. Among other things, the law legalises family participation in state searches and allows for prosecutors to pursue cases that would otherwise be affected by the statute of limitations. In future projects, Lucía hopes to make a watchdog group to ensure that the new laws are fully implemented.
"Now we're more respected because they know that we are better organised, but there is still a lot of omission and lies. Solecito is planning on working to make an observatory to make sure the law is implemented. I've spoken with lawyers and cybernetic experts to make databases and everything to work toward this observatory because how are we going to know if they're putting it into practice or not?"
Courage through a culture of shame
Despite their successes, the collectives of both women continue to face significant challenges. There is, of course, a real danger in revealing mass graves that could incriminate the perpetrators. Furthermore, the authorities may be slow to collaborate with the citizen-led efforts or, worse, compromised by the cartels.
There is also a deeper stigma around disappearances within Mexican society. Graciela and Lucía say that the authorities criminalise the disappeared, portraying them as lawbreakers who were likely mixed up in illicit activities and running with dangerous crowds before they vanished. This, in turn, creates a culture of shame around the families. This stigma, coupled with fears of further disappearances or violence, silences many in the community.
Lucia states, "There are children whose parents don't look for them—maybe the majority of them aren't looked for because they say 'well, you know that your daughter was a bit crazy and was on the wrong path' even if it's not true. And the parents believe it. But what wrong path was [Graciela's] 13-year-old daughter on? Among Colectivo Solecito, the oldest person they took was a 65-year-old woman, and the youngest was just two years old. Was she on the wrong path too, that little girl?"
In such a climate, visibility can take a tremendous amount of courage. Graciela remembered a moment while organising a roadside protest and makeshift information centre along a highway. She said family members of the missing did not show up until the group had hung up tarps to provide greater discretion.
"Only when we did that, local families finally came by," Graciela says. "On one occasion a man came, with his breath smelling of alcohol, and he apologised, saying 'pardon my breath, but if I don't have a beer I couldn't come talk with you all'."
The internet has also provided a more discrete method to communicate, helping open new channels for families to build networks and share information about disappearances and other news from certain areas. Such information is valuable in Mexico, which Reporters Without Borders consistently ranks as one the most dangerous countries in the world for journalists.
"There's not journalism there—it exists, but it doesn't reflect the reality," Graciela says. "In our case, the social networks helped a lot. These anonymous online solidarity communities helped us understand the state of things."
The use of anonymous networks underscores the real threat these activists face. When asked if she is afraid in her work, Graciela nods. "Yes, we're all afraid, but in my case, the worst fear I have is not finding them. This is the biggest fear I have."
By publicly fighting against the disappearances, Graciela and Lucía have begun to break down the expectations of what families can do while challenging the societal stigma around these tragedies. They are deeply grieving yet relentlessly motivated to change their communities. Graciela states, "This hurts so much because despite the fact that we're already suffering, there are many more people behind us who are also hurt. Mexico is full of broken and hurting families."
International recognition
Based on their efforts to find justice for Mexico's disappeared, both Graciela and Lucía have been recognised as human rights defenders in Europe, where they both went in 2017 to help raise awareness for their cause. The women said they hoped to use the trip to find international support, share their stories, and shine a spotlight on the dire situation in Mexico for the wider world.
In 2017, Graciela was invited to the Netherlands to receive the Human Rights Tulip, a prize issued to human rights defenders by the Dutch Ministry of Foreign Affairs that includes a 100,000 euro grant to support the nominee's work. The award recognised her efforts in bringing forensic science into the fight to find and identify Mexico's disappeared, as well as her efforts to break the taboos around disappearances in the country.
That same year, Lucía was invited to the Netherlands to participate in Justice & Peace's Shelter City program where she learned strategies in resilience and formed a network with other human rights defenders across the world. While in The Hague, she presented the opening of the exhibition Huellas de la Memoria (Footprints of Memory), created by the Dutch and Mexican SMX Collective to explore the trauma around Mexico's disappeared. The art installation consisted of hundreds of shoes belonging to the missing, dangling over the visitors with messages of love carved into the soles.
"We want the world to understand the trauma our country faces."
The two women see the international community as a useful source of allies, in part to put further pressure on the Mexican government to act on the disappearances. "We have to knock on all the doors we can because something very curious is happening where the Mexican government doesn't care what Mexicans say, but they're interested in what is said beyond Mexico," Lucía tells Justice & Peace. "They don't want to look like an undemocratic country that isn't modern. They want to put on an image that's a lie, but with the international pressure, we say 'we'll take off your mask'."
That mask, both Graciela and Lucía argues, is one of empty rhetoric and political gestures. While expressing concern about the epidemic of violence and disappearances, they say the government almost never reinforces its political messages and legislations with meaningful action. This forces citizens to take such action upon themselves.
"Mexico says we're spending a lot of money in supporting the victims and searching for them, and that we have some very efficient registries," says Lucía, "but we know for a fact that isn't true."
"It's not very difficult to investigate how much they spend annually in, for example, the state tourism publicity versus how much they spend on the disappeared," Graciela adds.
Lucía and Graciela say they find the disconnection between the realities of the crisis and the political rhetoric around the issue maddening. "We want the world to understand the trauma our country faces."
"Families are completely broken," says Graciela. "I know that sometimes it sounds blunt, and we show some very raw photos, but we do it to demonstrate the harsh reality of what this all means. We've managed to make this tragedy visible, because it's not just Lucía's or my tragedy— there are thousands of families that are exactly like us."
Trauma and resilience
Disappearances carry their own kind of trauma. Unlike deaths, they do not allow closure or full understanding of what happened for loved ones, but instead lead to what researcher Pauline Boss refers to as ambiguous loss—an unresolved grief and search for answers. Both Graciela and Lucía say that not knowing is the hardest part of their fight, which they compare to being dead in life.
"You need to find that family member, close that circle, because it's a circle of uncertainty and agony, and you have to close it," Lucía explains. "We can't leave it open forever."
"You confront indifference, and you notice the corruption, which is stunning. You turn into the living dead," Graciela adds. "The authorities think we'll grow tired and we'll leave it, but it's important that they know that many mothers are not going to stop until our bodies stop." She hopes that eventually, the government recognises that these families are not just tears and pain. "We're more specialised, we're learning a lot more, we're closer to each other."
By turning their personal trauma into collective action, both women have found the resilience and strength to fight in search of their families, challenging the wider system that let their family members disappear. Along the way, their efforts have led to the discovery of hundreds of bodies, brought closure to other grieving loved ones, put pressure on the government for legislative change, spotlighted international attention onto their cause, and helped break the silence and taboos around the disappeared within Mexican society itself. They continue to fight for justice for their loved ones and for the tens of thousands of other disappeared in Mexico and the broken families left behind.