Who we are
Justice & Peace Netherlands is a non-profit organisation based in The Hague that is dedicated to defending and promoting respect for human rights and social justice, worldwide and in the Netherlands.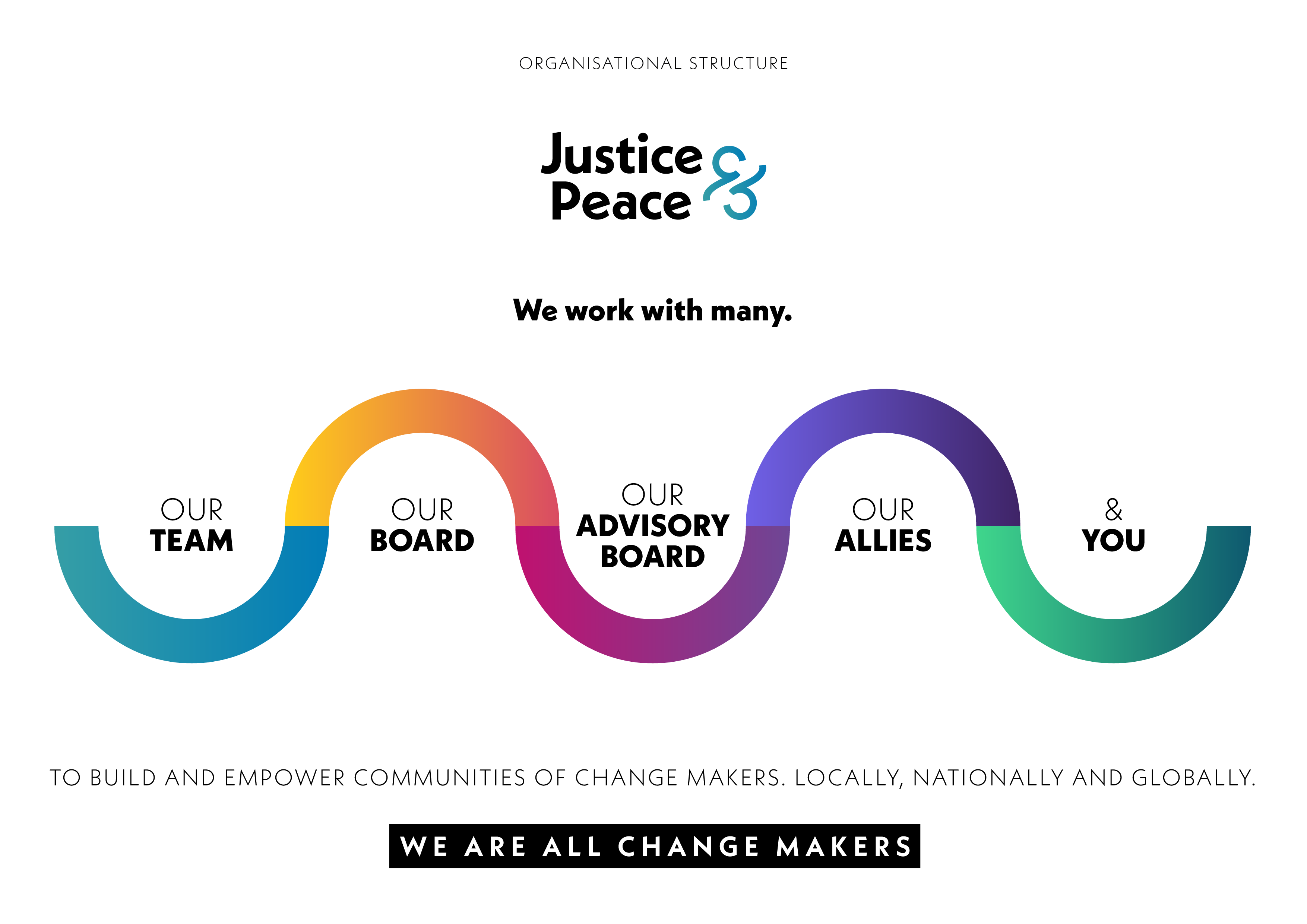 Our vision
We envision a world where everyone, everywhere, can enjoy their human rights.
Our mission
At Justice & Peace, we work to build and empower local communities of change makers who work together for just, sustainable and welcoming societies.
Our approach
Empowering change on the local level for human rights – that is our mission. To achieve this, we focus on pragmatic and solutions-based approaches to promoting and protecting the respect for human rights, for everyone, everywhere. We believe in innovation, and through our projects and initiatives, we create new ways to effectively address challenges, incite positive change, ensure long term sustainability and create real impact for human rights.
But we don't do this alone. Since our inception in 1968, Justice and Peace has continued to follow three main principles that we see are the most effective to achieving our vision of a just and sustainable world: empowering change on the local level, adapting to the needs of the present and future, and most importantly, working together. By bringing people and organisations together from all levels of society, providing them a platform, the tools, resources, and opportunities, we ensure everyone can help to make a positive difference for human rights.
Our work
Today, our projects focus on two main issues – the protection and integration of refugees and the protection and security of human rights defenders.
Through our initiative Samen Hier, we offer an alternative model for the reception and resettlement of refugees, via the Dutch implementation of community sponsorship. Samen Hier develops public-private partnerships between (local) governments, civil society and residents. Local communities offer safe havens in their communities and work towards the development and promotion of safe and legal pathways to Europe.
With our worldwide Shelter City Network and our holistic trainings we provide vital protection and support to human rights defenders at risk through temporary relocation and security training, so that they can continue their work safely and effectively over the longer term.
Alongside our projects, Justice and Peace actively promotes the respect for human rights by raising awareness through events, publications, petitions, and educational outreach.
Our history
Since 1968, our mission has remained the same – to promote the respect for human rights, social justice, local solidarity and democratic values all over the world. Originating from a worldwide movement stemming from the Catholic Church, under the name of 'Justitia et Pax', our organisation has committed to standing up for the rights and freedoms of everyone, everywhere.
Over the last 50 years, Justice and Peace has been involved in defending a range of human rights issues. From bringing to light the refugee crisis in Sri Lanka in the 80s, to supporting the peace process in East Timor, calling an end to the death penalty in Europe in the 90s, and advocating for mass pardons for undocumented migrants in the Netherlands around the new millennium, we have led efforts towards the protection of human rights defenders and the respect of rights of refugees.
We further share our expertise with the international community through our membership at the Human Rights and Democracy Network, as well as by holding a special consultative status at The Economic and Social Council (ECOSOC) of the United Nations, and a participatory status within the Council of Europe.
To know more about our current projects, have a look at our initiatives.