Artists' Safe Haven
Justice & Peace strongly believes that arts and culture are essential for a safe and just world. The most effective way to promote democratic rights, liberty and universal human rights globally is through the support and protection of local and grassroots artists and other change makers. Many of them are under pressure, and in order for artists to be able to defend democratic rights, they need security and space to implement their vocations.
Through the Artists' Safe Haven initiative, we aim to contribute to the promotion of freedom of artistic expression globally, including the right to create art, admire it, critique it, challenge it, be provoked by and respond to it, free of governmental censorship, political interference or the pressures of non-state actors. By establishing this initiative for artists at risk, we enable these artists and a broader civil society, specifically an international art scene, to continue their work, reclaim civic and artistic spaces, speak out against injustice and contribute to the creation of a fairer world.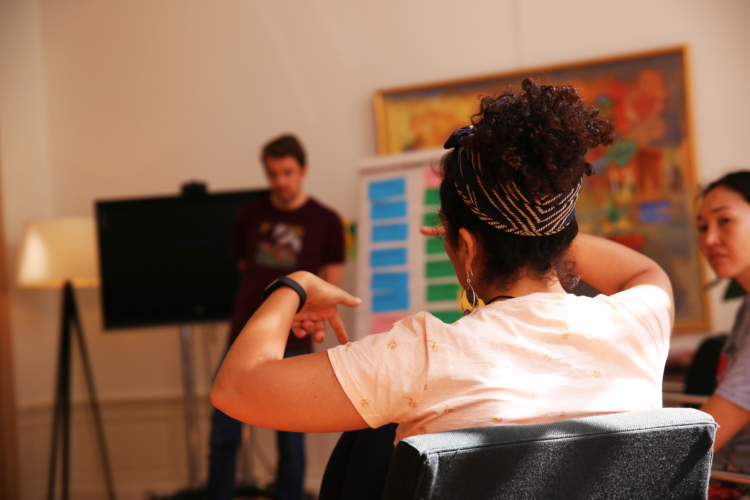 Our support
Through the provision of temporary relocation and tailormade support for artists at risk, Justice & Peace aims to promote the safety of these artists, and in particular women artists, worldwide so that they can build new strategies and continue their important work for freedom of artistic expression in their country of origin.
In 2023 and 2024, we will offer temporary relocation of three months to six artists at risk with ample opportunity for rest and respite in addition to capacity building, networking and awareness raising. Throughout their stay we will monitor their security situation and work on a plan to return safely after the three months in the Netherlands.
The focus during the temporary relocation will be on exchanging with Dutch or international artists and art institutions. This will help them develop their artistic skills and approaches and build a support network that could in the end support them in the future. Conversely, the cause and work of the artists at risk could influence and inspire the artists and institutions that they meet.
Who can apply?
The Artists' Safe Haven initiative is intended for artists or art practitioners who, as part of their artwork, address or promote human rights in non-violent ways, and are threatened or otherwise under pressure due to their work or activism.
An independent selection committee will select the final list of candidates for the programme.
Applications are currently closed. We will announce the next round on this website and our social media channels.
Note that selected participants will not automatically participate, as Justice & Peace is not in control of issuing the required visas to enter the Netherlands.
For more information, please contact us at artists.safehaven@protonmail.com