Yves, using cartoons for change
Cartoon artwork by Yves Kulondwa (aka Kayene) from Democratic Republic of Congo (DRC).
DRC-based cartoonist, Yves Kulondwa, is a current participant of the Artists' Safe Haven initiative.
Yves considers himself an artist and an activist. Through his art form, contemporary symbolism and satyr, he wants to bring people together, allowing them to discuss crucial topics reflected in his cartoons, and think about constructive solutions to move forward.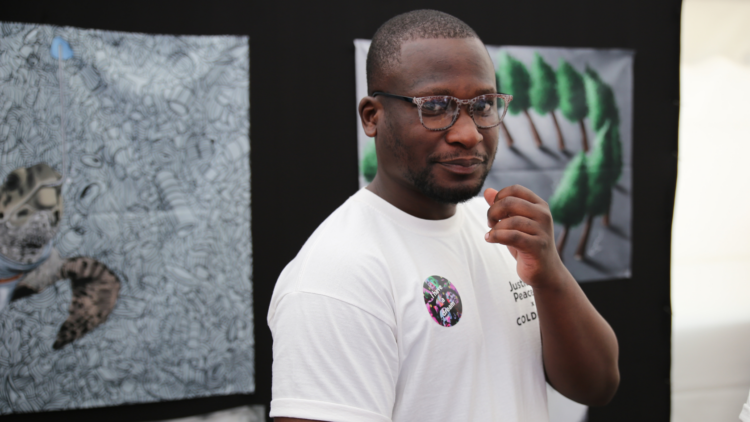 Yves began drawing to form connections with people as he considers himself a shy person. Soon, he started dedicating his work to topics that matter to him, such as climate change and social issues. Being in a safe and inspiring environment, away from the threats associated to his work, enables him to rest, while developing his art and engaging with allies. He uses his talent to serve as a link between scientific journals and studies dealing with the subject and the public to popularize on this theme.
"75% of the Congolese did not have the opportunity to go to school and are illiterate. Cartoon art has the power to treat lightly very serious subjects. You can laugh about it, but it makes you think afterwards."
The newspaper Den Haag Centraal recently published an article about Yves' art, his experience with the Artists' Safe Haven initiative, the challenges for environmental rights in the DRC, and his upcoming exhibition. This exhibition "My Point, Your View" will take place on the 8th of September at 17:00 at KV02 in The Hague.  The exhibition highlights Yves' perspective on pressing societal and environmental issues through symbolism with a comedic touch.  The location is part of ANNA Vastgoed & Cultuur centre and is located at Korte Vijverberg 2.
Interested in getting to know more? Read the article via the button below.
Read the article on Yves by Den Haag Centraal
The Artists' Safe Haven initiative by Justice & Peace promotes the freedom of artistic expression globally by supporting artists and art practitioners at risk. Through this initiative, the international art scene is enabled to speak out against injustice, reclaim their civic and artistic spaces, and continue their work more efficiently in their country of origin.
'For Earth' pop-up exhibition
Artwork and captions by Yves
Following a series of disasters linked to climate change in his region, Yves became interested in the phenomenon of climate, the environment, and ecology and made these his passions.
"She sees us born, carries us, shelters us, feeds us! We only have her! So let's raise a toast…to Earth, our mother planet! But as soon as we raise our glasses, we hear the horrified cry: "On the ground!" Except this time it's not an invitation to hug her, but a warning of impending danger!! It's a heat wave, it's an oil spill, it's a tsunami, it's floods…

We haven't heeded Earth's silently loud cries for help enough while we're overexploiting it! Now she's down! Let's give back to Earth her greatness, seedling in hand, knee to Earth!!"
In 2020, his exhibition "For Earth" (À terre) is premiered in Bukavu and comprises a series of illustrations and caricatures that address climate change in a way that is both funny and challenging. The following year, the same exhibition is presented in Brussels, and in July 2023 was displayed at the Coldplay concerts in Amsterdam.
Mutation
"Sea creatures now share their spaces with these new species that we create by millions every day. The fish eat it… And we love fish!"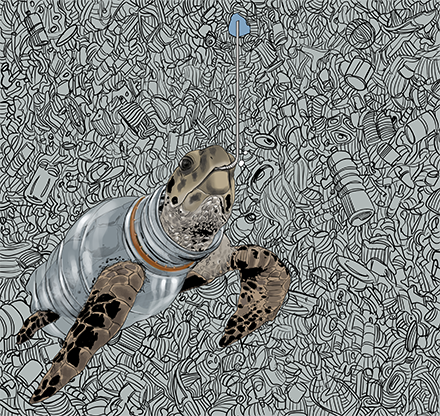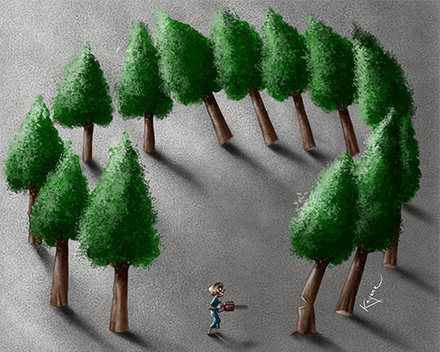 Domino effect
"Karma wants any action, good or bad, that we take, to catch up with us sooner or later!"
Ctrl-X, Ctrl-V
"Well, nothing to add!!"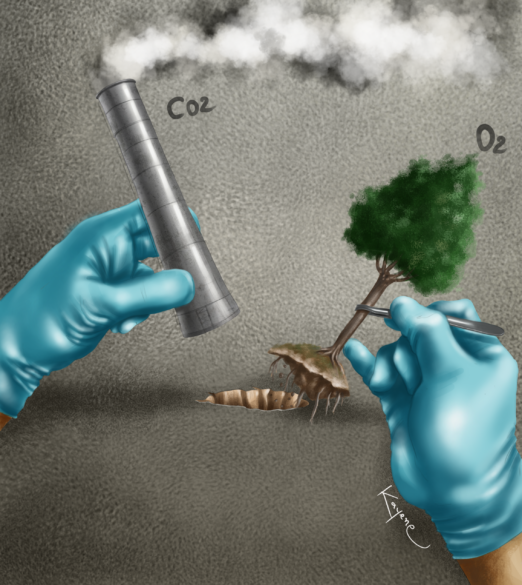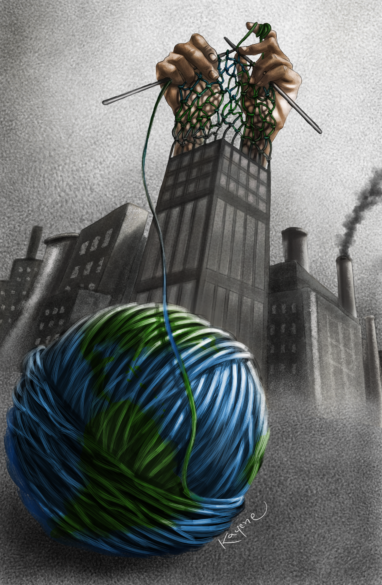 Everything is transformed
"With a ball of knitting yarn, each portion removed from the ball will definitely become part of the hat, socks or sweater that you're knitting. It won't come back. The same goes for our way of exploiting the earth's resources to transform them into houses, clothes, or other tires …
We remove the trees, without thinking of replacing them! They won't come back by themselves."
The "For Earth" exhibition by Yves was part of Justice & Peace's collaboration with Coldplay and Global Citizen at their Music of the Spheres tour.