31-08-23
My Point, Your View: An exhibition by Artists' Safe Haven guest Yves Kulondwa
Justice & Peace welcomes you to the exhibition 'My Point, Your View' in The Hague.
This exhibition highlights the artist Yves 'Kayene' Kulondwa's perspective on pressing societal and environmental issues through symbolism with a comedic touch. The location is part of the ANNA Vastgoed & Cultuur Centre at Korte Vijverberg 2. The exhibition is open at KV02 from 12:00-17:00 on Thursday to Sunday, until Sunday the 8th of October. 
The exhibition will be moved to the Atrium City Hall in the municipality building at Spui 70 to be open from 11th of October until the 25th of October, attendance is free of charge as well.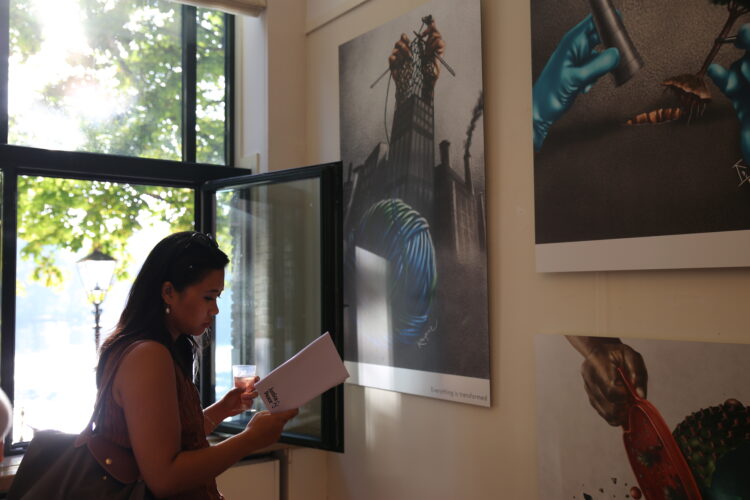 A personal note from Yves on his "My Point, Your View" exhibition
"I am a graduate of Economics, a journalist, and above all a cartoonist.
I come from Bukavu, a city in the east of the Democratic Republic of Congo, ranked the richest country in mineral resources in Africa and 7th in the world.
Paradoxically, it is also one of the countries with one of the poorest populations in the world, ranked 143rd out of 197 in terms of literacy.
Add to this a long colonial history, decades of dictatorship, several deadly armed conflicts and widespread corruption.  My passion for justice and equality naturally influenced my talent as an artist and led me to become a cartoonist. I use caricature because it often makes it possible to address sensitive, harsh or taboo subjects in our society with a touch of lightness.
Throughout my career, I have used my sense of observation, my imagination and my pencil to inform, denounce, and give my opinion.
Hence the remark that is often made to me: Why do your drawings usually have this melancholy satirical je ne sais quoi? Well, maybe it's because the camp opposite is constantly trying to sell an overly watered-down image of the situation."
Prints of Yves's artworks will be available for sale during the exhibition, and you can support his effort of developing a platform and training sessions for critical young creatives in the DRC with a donation. You may find the captions of the displayed artworks below.
Booklet for the exhibition 'My Point, Your View' by Yves Kulondwa
Yves 'Kayene'  Kulondwa is a cartoon artist from the Democratic Republic of Congo (DRC) and a current participant of the Artist Safe Haven initiative.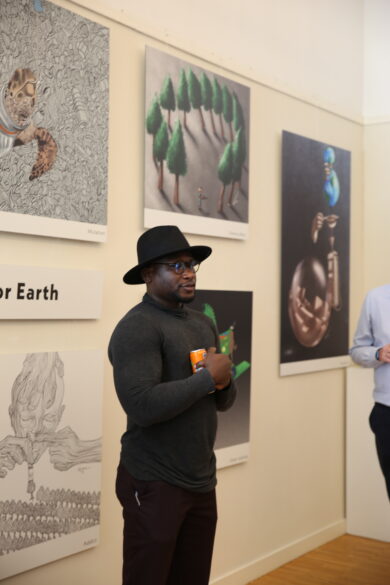 Earlier this month the "My Point, Your View" exhibition was opened at Korte Vijverberg 2. As part of his participation in the Artists' Safe Haven initiative, artworks of Yves were also displayed with the former exhibition 'For Earth' during the Music of the Spheres world tour concerts of Coldplay in Amsterdam.
Yves' story and work were featured at an article by the Den Haag Centraal newspaper. Would you like to learn more for the artist and the challenges for environmental rights in the Democratic Republic of Congo? Read the article by clicking on the button below.