The Justice & Peace Magazine
Contributing to sustainable, just, and welcoming societies.
We are proud to present to you our first Justice & Peace magazine!
Through our J&P magazine, you will get to know the many and diverse change makers we work with and for: from human rights defenders and activists, to NGOs and grassroots initiatives, policy makers, creators, citizens, and students. You can read more about how we work, the impact we make, and how you can get involved in our work.
We are proud to share these stories and achievements with you, and thank all our friends, partners, participants and supporters for contributing to our mission and the protection and promotion of human rights.
Featured on the cover of the magazine is our Mural of Change, an iconic graffiti artwork and statement by artist duo Karski & Beyond on the building of The Hague University of Applied Sciences in The Hague.
Join the movement of change – because anyone can be a change maker!
"Their stories, our story, show that people can change the world." – Sebastiaan van der Zwaan, Director of Justice & Peace
Read the magazine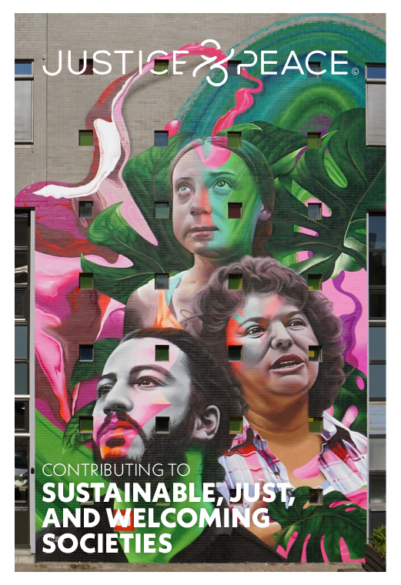 About our organisation
Justice & Peace was founded in 1968 with the vision to promote the respect for human rights around the world. For more than 50 years, we have been working to realize this vision through our programmes and initiatives. By working together with partners and change makers from all levels of society, in the Netherlands and worldwide, we realize positive change and concrete impact in more and more places around the world.
If you are new to Justice & Peace, there are many ways you can support us and become part of our change maker community:
About the magazine
The Justice & Peace 2021 magazine brings you closer to our programmes and initiatives, to the stories of change makers who are at our core, and to our key highlights.
Find out more information below.