Exhibitions
Justice & Peace is actively involved in artivism in order to link the public in the Netherlands to the people who we work with. We wish to raise awareness on the issues that human rights defenders are facing around the world and to increase support for their work and for welcoming societies for newcomers.
The Hague Highlights light art festival
From 14 – 18 December 2022, Justice & Peace participated in The Hague Highlights festival. The annual light art festival is telling stories of the rich history of The Hague, using light and projection. We presented the artwork Voyage – Safe Haven at  Hofvijver to advocate for a welcoming society and communities that create safe havens for people who were forced to flee their homes. With its Samen Hier initiative, Justice & Peace engages groups of friends and acquaintances in welcoming people who had to leave their homes. Together, they form a safe haven.
The artwork Voyage – Safe Haven tells the story of The Netherlands as a welcoming host country and represents the safe havens that The Netherlands offers and can offer to refugees. It is created by Aether & Hemera, the multi-disciplinary art and design studio of artists Gloria Ronchi and Claudio Benghi.
Read more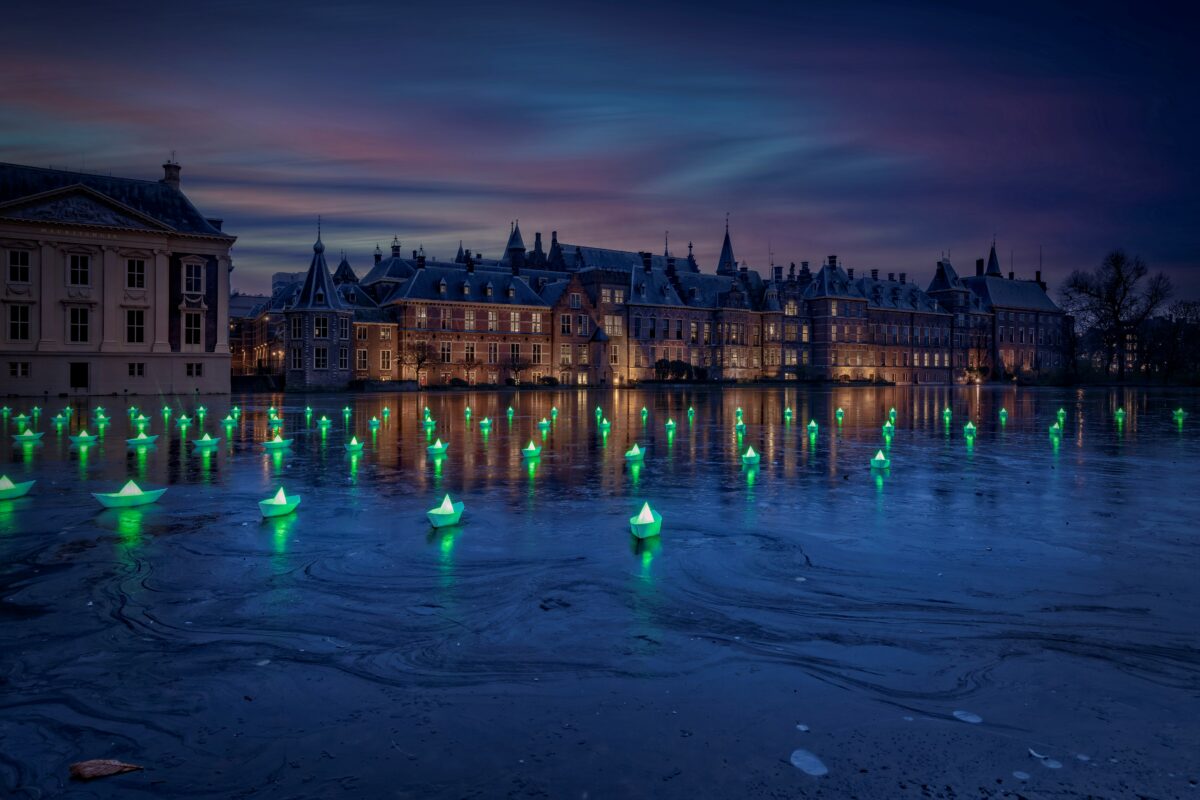 Open-air photo exhibition to celebrate 10 years of Shelter City
Ten years ago, Justice & Peace founded the first Shelter City to offer human rights defenders at risk a temporary and inspiring safe haven. In those 10 years it has grown into a global movement of 21 cities and more than 400 human rights defenders were supported. To celebrate this anniversary, a large open-air exhibition featuring six powerful portraits, made by Daniella van Bergen, of human rights defenders participating in Shelter City traveled in various cities of the Netherlands. Each portrait had an accompanying story of the human rights defender.
Shelter City traveling outdoor exhibition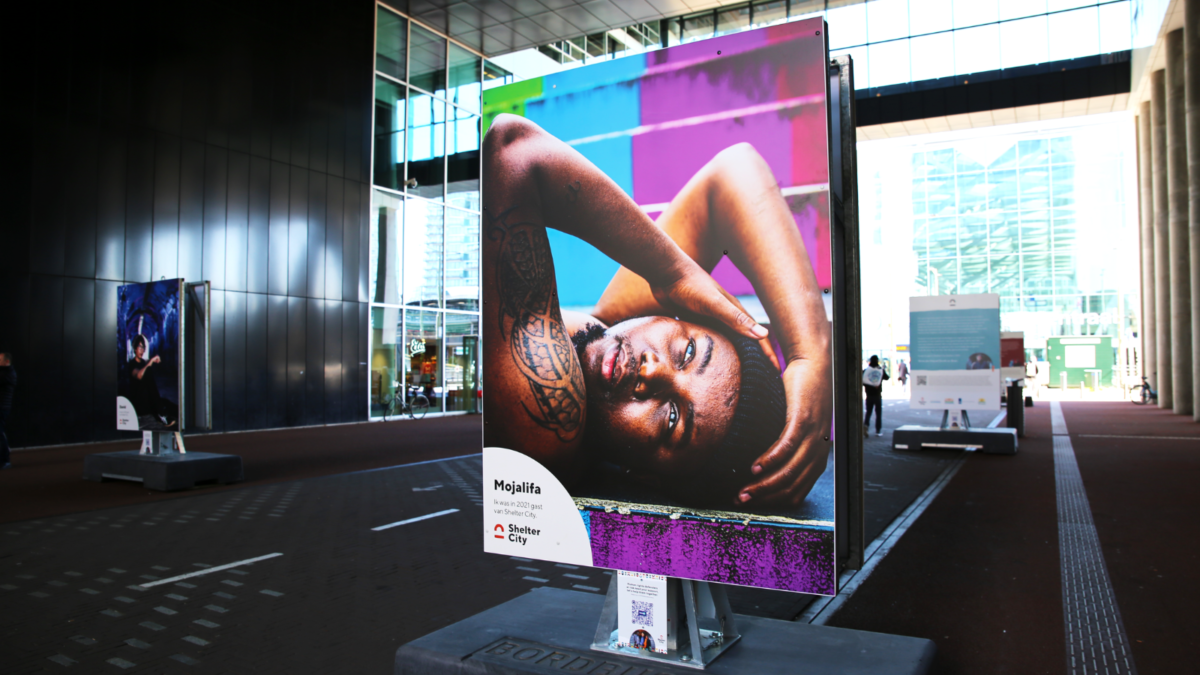 International Human Rights Day – Action #GreenLight
On International Human Rights Day in December 2021 numerous cities across Europe switched on their green lights. A green light for refugees and for human rights.
This campaign was initiated by a Polish citizen and many others followed suit to signify their places as a shelter where refugees can find safety. This was in response to Belarus and Poland's policy to stop and push back undocumented migrants and refugees at the time. As a result, many refugees were stranded at the borders between Poland and Belarus in their efforts to reach Europe.
We also honoured this call and turned our building in The Hague at Riviervismarkt 4 green. Together with the Human Security Collective and the Netherlands Helsinki Committee, we participated in Action #GreenLight and asked citizens and organisations in The Hague to join as well.
Find out more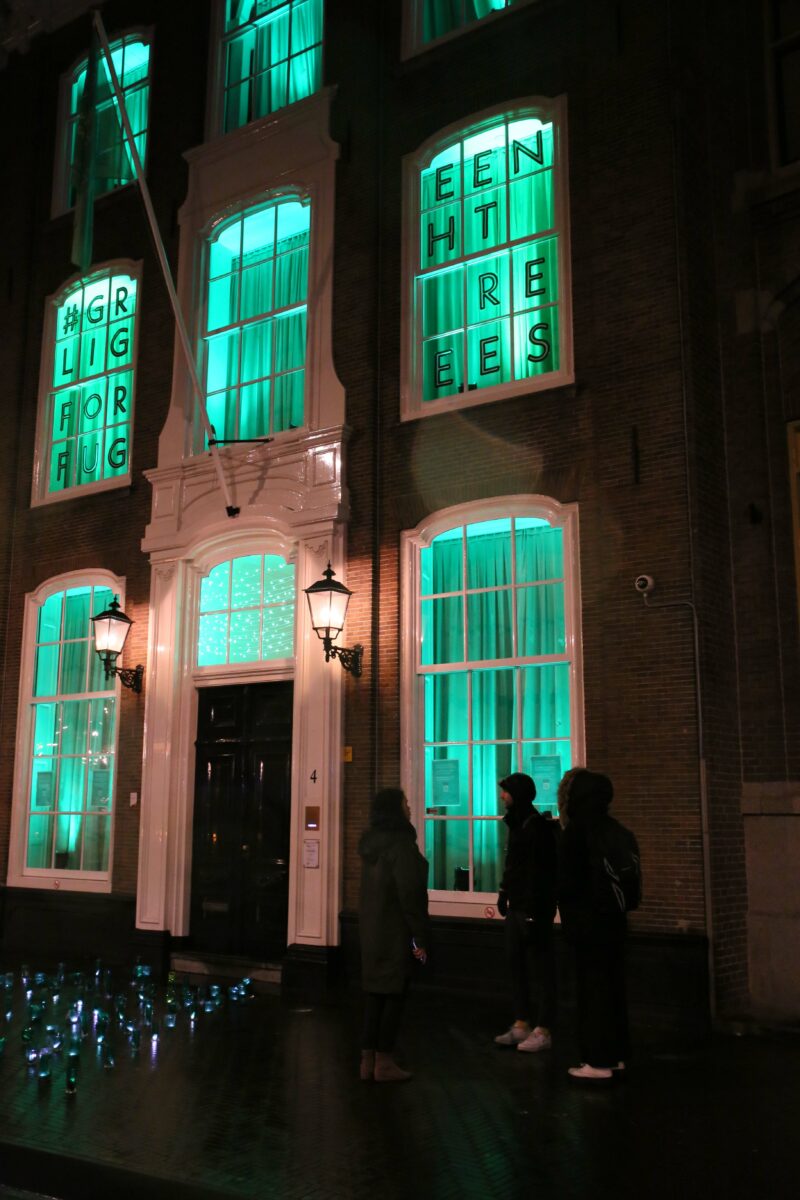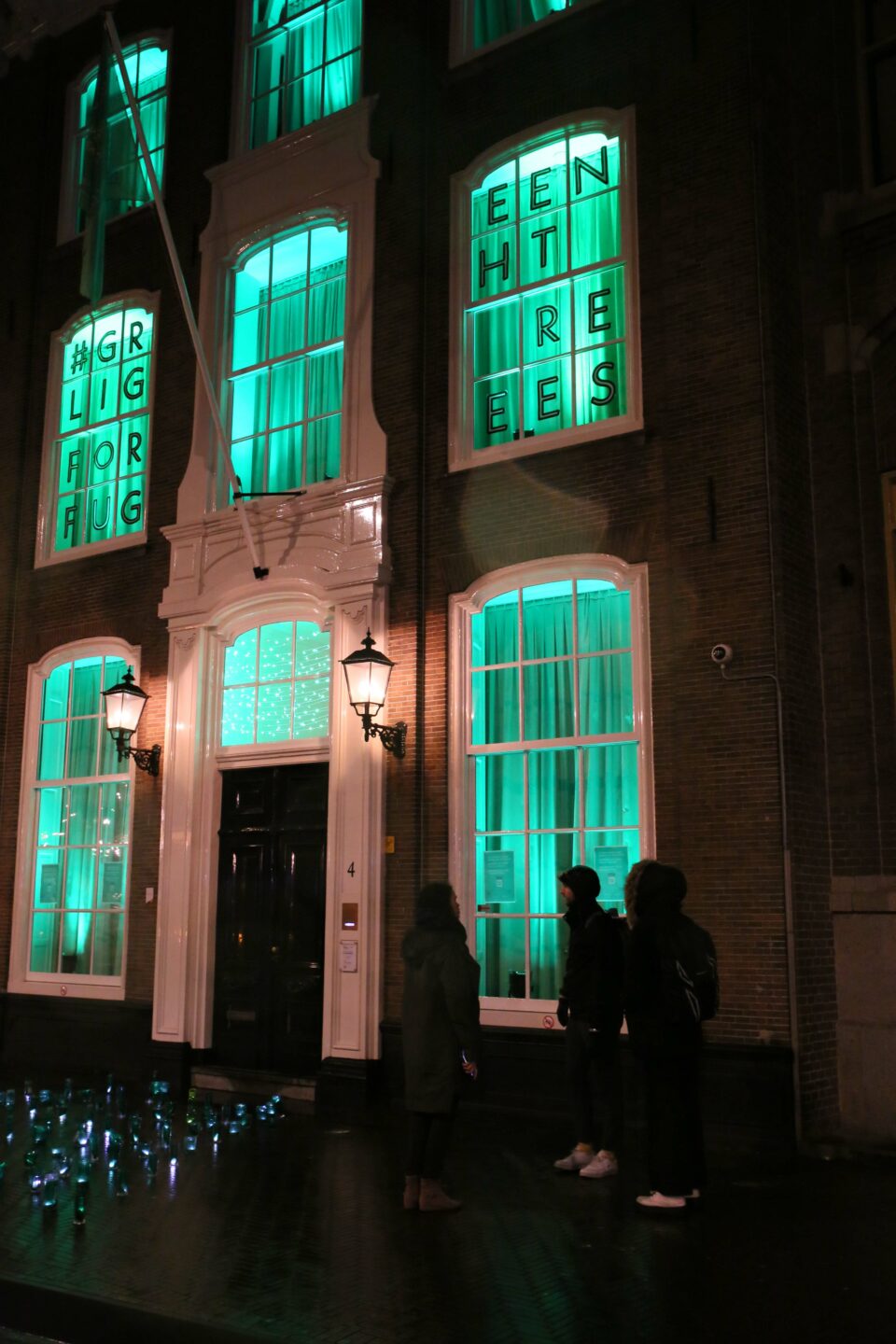 Power to the people: Peruvians fighting for justice – Photo Exhibition by Shelter City guest, Atoq
In November 2021, together with Peruvian photojournalist and Shelter City The Hague guest Atoq Wallpau, we hosted a tribute photo exhibition at Het Nutshuis, The Hague.
The photo exhibition, in memory to two killed activists Brian and Inti, and to all Peruvians injured in protests by police violence, was followed by an event where Atoq discussed his experiences and shared more on the situation in Peru.
The exhibition featured photographs of social protests taking place in Peru and is the result of a collective effort to confront police abuses during protests and to denounce the human rights violations by the Peruvian State.
Learn more here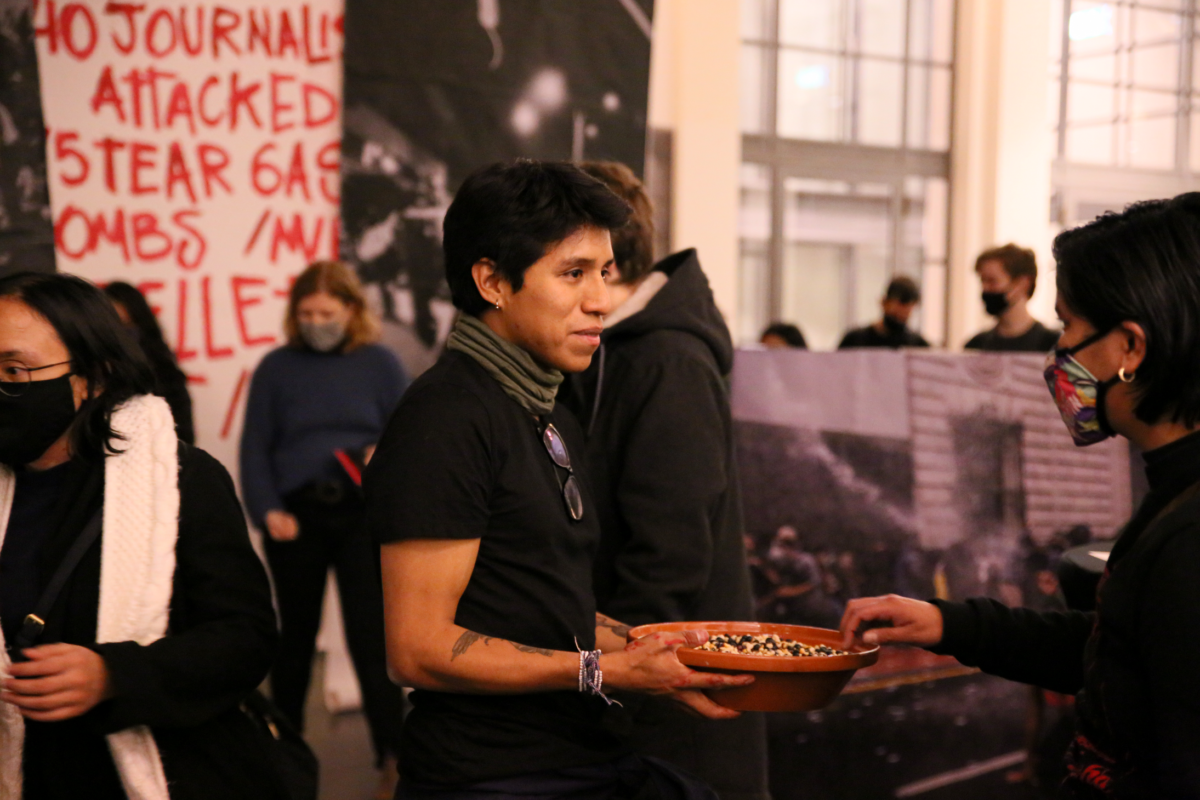 Exhibition: My Human Rights Hero
Thirty skins, five Change Makers
10 December 2019 – 17 January 2020
Lawyers office NautaDutilh (Amsterdam and Rotterdam)
Lawyers office Houthoff (Rotterdam)
Lawyers office HVG Law (Rotterdam)
Worldwide, and in the Netherlands, countless people are committed to realizing human rights, for themselves and for others. Sometimes even at the risk of their own life. They do this, for example, by assisting victims of violations, addressing governments on their promises and obligations, by documenting violations and calling violators to account. Who are these human rights defenders? What do they do and how did they stay inspired? What is the significance of the UVRM today? Artist Julia Brants visualized the answers to these questions based on five unique portraits made by photographer Gregor Servais. In addition, thirty people from all over the world borrowed their skin as the background for the articles, thereby emphasizing that human rights are universal and apply to everyone. Visitors to the exhibition can take and send postcards of the articles and the skins photographed by Arno Rotte.
My Human Rights Hero is an initiative of human rights organization Justice and Peace Nederland in cooperation with the Dutch Jury Committee for Human Rights (NJCM) and Pro Bono Connect. Contact us via info[at]justiceandpeace.nl for more information about the possibilities and costs to host this exhibition. This exhibition is supported by the National Postcode Lotery.
My Human Rights Hero Exhibition
Exhibition: My Human Rights Hero
70 Years Universal Declaration of Human Rights
This exhibition was displayed from 20 November 2018 to 2 February 2019 in The Nutshuis in The Hague.
Through the stories of seven inspiring individuals, each with a special connection to The Hague, this interactive exhibition will inspire you to take action and defend human rights in your community, while bringing the UDHR to life through the artwork and photographs by graphic designer Julia Brants and photographer Gregor Servais.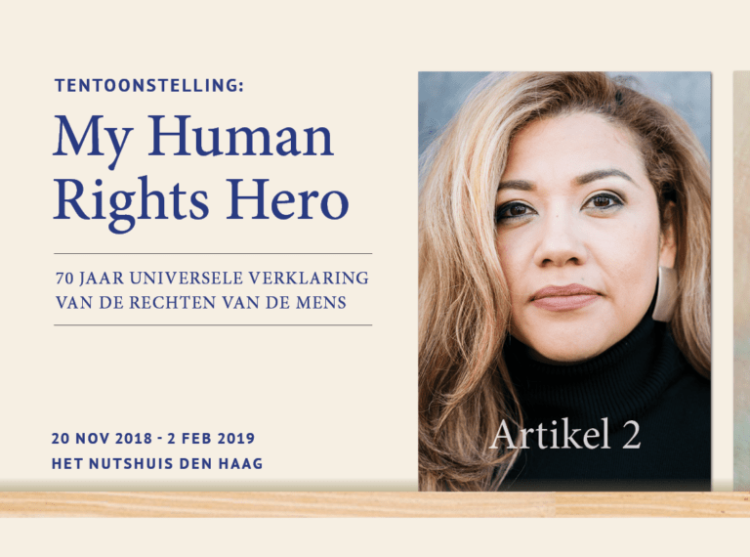 Shelter City Network, Portraits of Human Rights Defenders
From November 2017, the photo exhibition Shelter City Network, Portraits of Human Rights Defenders, travels through different Shelter City cities. The exhibition consists of a growing number of portraits made by photographer Daniella van Bergen from Shelter City participants; human rights defenders who fight at different places around the world for women's, children's and LGBT rights, against corruption and climate change, for democracy and freedom of expression. Until now, the portraits were presented at Center Céramique and the Faculty of Laws in Maastricht, the Ministry of Foreign Affairs in The Hague and the Harmonie building in Groningen. In the autumn of 2018 the exhibition travels to Deventer.
Check the events page to see where the exhibition can be seen.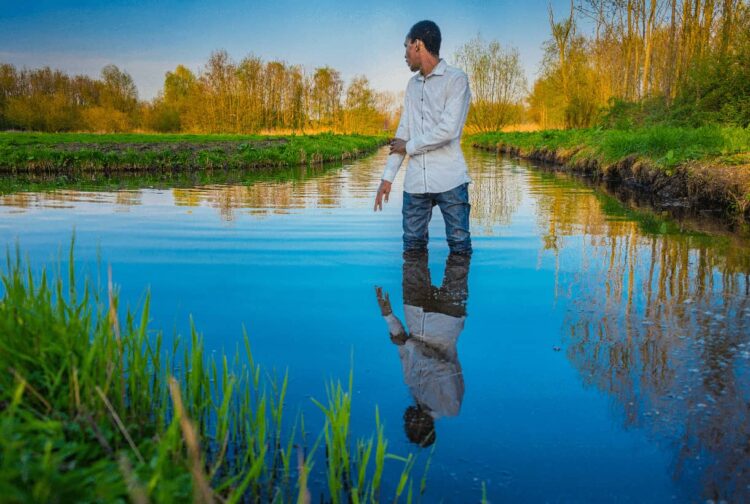 Shrinking Space
In December 2017, we worked together with SMX Collective from Mexico and Russian artist Nadezhda Titova for the exhibition "Shrinking Space: Footprints of memory and inoffensive art".
Human rights defender Lucía, from Mexico, about 'Footprints of memory'
Watch the video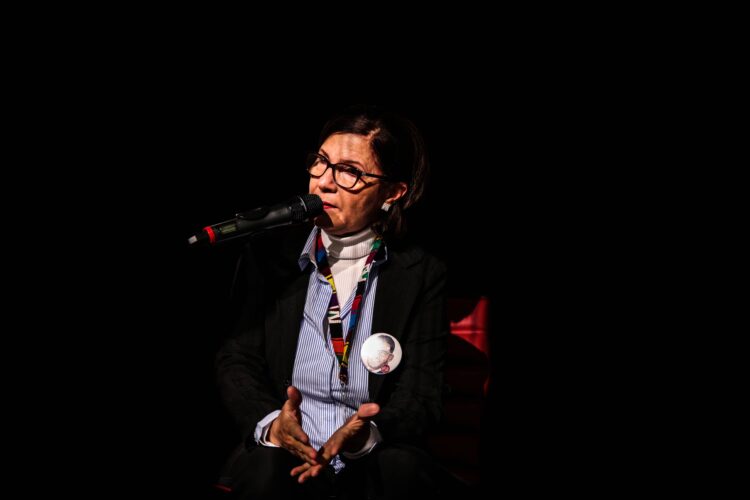 #WeAreAllHumanRightsDefenders
In 2016 and 2017, the exhibition #WeAreAllHumanRightsDefenders, featuring the photos of human rights defenders by Daniella van Bergen, attracted more than a thousand visitors. It was presented at the Nutshuis in the Hague and in Maastricht, first at Centre Céramique and then at the Law Faculty of Maastricht University.