Power to the people: Peruvians fighting for justice (Photo Exhibition by Shelter City guest, Atoq)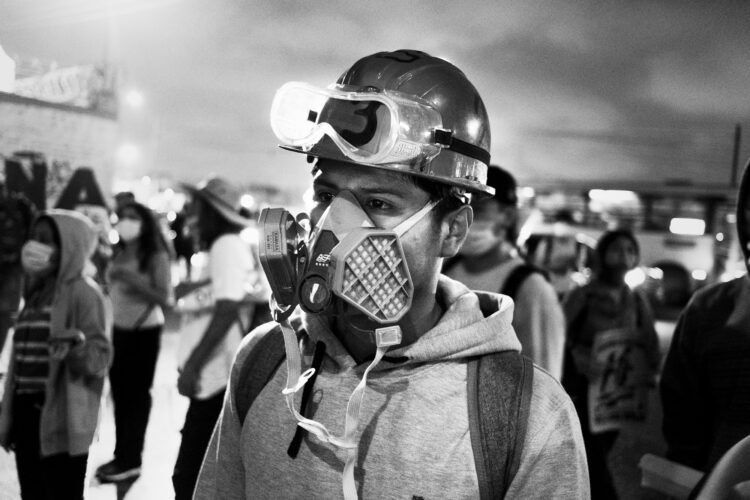 Justice & Peace Netherlands together with Peruvian photojournalist and Shelter City The Hague guest Atoq Wallpau invite you to a tribute photo exhibition at Het Nutshuis, The Hague, on 14th November.
The photo exhibition is in memory to two killed activists Brian and Inti, and to all Peruvians injured in protests by police violence. The exhibition will be open to the public from 14:00 – 18:00 on Sunday, 14 November.
There will be an event at 17:00-18:00 where Atoq will share with you through his experiences and photographs more about what is happening in Peru.
About Atoq
Atoq (30) is a Peruvian photojournalist, cultural manager and activist. Since 2015, he has used his photography to denounce police violence during social protests in Peru. In 2020, he organised a group of independent photojournalists, activists, and artists into the FAC collective – Fotógrafxs Autoconvocadxs ('Self-Convened Photographers'). This collective reports police abuses during protests and denounces the human rights violations by the Peruvian State. Atoq also coordinates the project ¿Quién vigila a los vigilantes? ('Who watches the watchers?') together with the FAC collective, which seeks to protect the right to protest and denounces police persecution in digital spaces.
Atoq is currently participating in Shelter City, a global movement of safe spaces for human rights defenders at risk. Atoq is staying in Shelter City The Hague, and is part of the Dutch Ministry of Foreign Affair's support for journalists at risk.
Tribute photo exhibition
This photo exhibition is a tribute to Inti Sotelo, 24 years old and Brian Pintado, 22 years old – two young students who lost their lives during a political and social uprising that took place in November 2020 in Lima, Peru. This time last year, the people of Peru joined forces to protest the coup organised by right wing representatives in Congress who had voted to impeach the former President Vizcarra over alleged bribery charges. What followed was the handing over of power to Manuel Merino as interim president. (source: https://www.bbc.com/news/world-latin-america-54948810)
After months spent inside due to the COVID-19 restrictions in Peru and thousands of friends and family members lost to the illness, the Peruvians grew indignant at the corruption witnessed in the country. Tension started building and on the 9th of November, 2020, the day when former President Vizcarra was impeached, people took to the streets to fight for democracy and demand justice. Like a tidal wave, the protests grew each day starting with only hundreds of people and turning into crowds of tens of thousands of mostly young demonstrators protesting across Peru. The capital city was taken over by siren sounds and chants of protesters demanding justice and the removal of Manuel Merino. Peruvians self-organized into teams of young medical students helping the wounded, lawyers to help those arrested, and people with knowledge on how to deactivate tear-gas bombs and self-defence groups.
Throughout the protests, demonstrators clashed with the police who responded by firing tear gas and gun shots into the crowds. As a consequence, Inti and Brian lost their lives. Many still have lead pellets in their bodies and wounds caused by the police repression that occurred in those long days of struggle.
Atoq took to the streets to photograph the protests, which are displayed in this exhibition. In response to what was going on, Atoq mobilised other independent photojournalists into a collective, known today as Fotografxs Autoconvocadxs – FAC. The purpose of the collective is to advocate for the safety of young independent photojournalists who lack the necessary equipment to keep them safe during violent protests in Peru. Atoq remembers the collective feeling of strength and deems it as an important moment for the young generation of Peruvians who realized the need to fight for their rights. These days remain in the memory of Peruvians who continue to fight for justice.
Through this exhibition in the city of Peace and Justice, Atoq wants to show more people what is truly happening in Peru.
To find out more about the Atoq's work and fellow photojournalists at Fotografxs Autoconvocadxs – FAC please see: Instagram: https://www.instagram.com/fac.pe/