30-03-21
Upcoming arrival of new Shelter City guests in the Netherlands
Justice & Peace is excited to announce the upcoming arrival of a new group of human rights defenders to Shelter City this spring in the Netherlands. Shelter Cities across the Netherlands will be offering safe and inspiring spaces to human rights defenders at risk for a period of three months, where they can re-energise, receive tailormade support and engage with allies in order to reinforce their local actions for change.
We are pleased to also announce that Justice & Peace will be providing additional support for journalists in with this new group of guests. Each year for the next five years, Shelter City will be providing two extra places to journalists at risk in The Hague. This new support has been made possible by the Dutch Ministry of Foreign Affairs.
COVID-19 and Shelter City
The global measures to combat COVID-19 brought many new challenges to our work in supporting human rights defenders. Despite this, Shelter Cities across the Netherlands were able to receive guest human rights defenders in September last year, following a few months delay as a result of the COVID-19 restrictions. In the delayed months, Justice & Peace supported the human rights defenders with online security trainings and other online support.
Despite the COVID-19 measures in the Netherlands, the Shelter City guests found their stay in the Netherlands fruitful, necessary, and highly recommended the initiative to other human rights defenders. This together with the increasing need we see to support human rights defenders, has confirmed to us of the importance to continue this kind of temporary relocation for human rights defenders during these times.
The arrival and stay of the upcoming guests has been adapted according to the current COVID-19 measures, as the health and safety of our guests and everyone involved in Shelter City remains our top priority. Each guest will be tested for COVID-19 before departure to the Netherlands and will be required to undergo self-quarantine upon arrival. As always, comfortable and safe housing is organised by the coordinating partners in the Shelter Cities, and any required support and services are available online and offline. Furthermore, we will ensure that throughout their stay all guests are well-informed and up-to-date with the COVID-19 measures in the Netherlands. In addition, Shelter City guests participate in holistic security trainings during their stay and in public events and lectures, to the extent COVID-19 measures allow.
Justice & Peace is looking forward to working together with our partners in the Netherlands to ensure a fruitful and safe stay for our guests during their time in the Netherlands.
This stay has been made possible with the kind support of the Dutch Ministry of Foreign Affairs, the Nationale Postcode Loterij, the National Endowment for Democracy, municipalities across the Netherlands, and our supporters. We thank you for contributing to the safety and support of human rights defenders.
More information regarding the upcoming guests will be shared on our online channels. For any questions or concerns, please contact us at sheltercity[at]justiceandpeace.nl.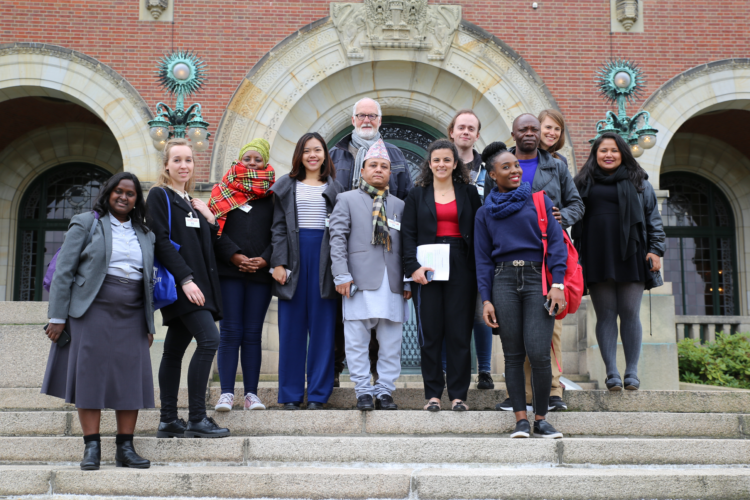 A group of Shelter City guest in front of the Peace Palace in The Hague during a training week in spring 2017.