Reframing the Migration Debate (online)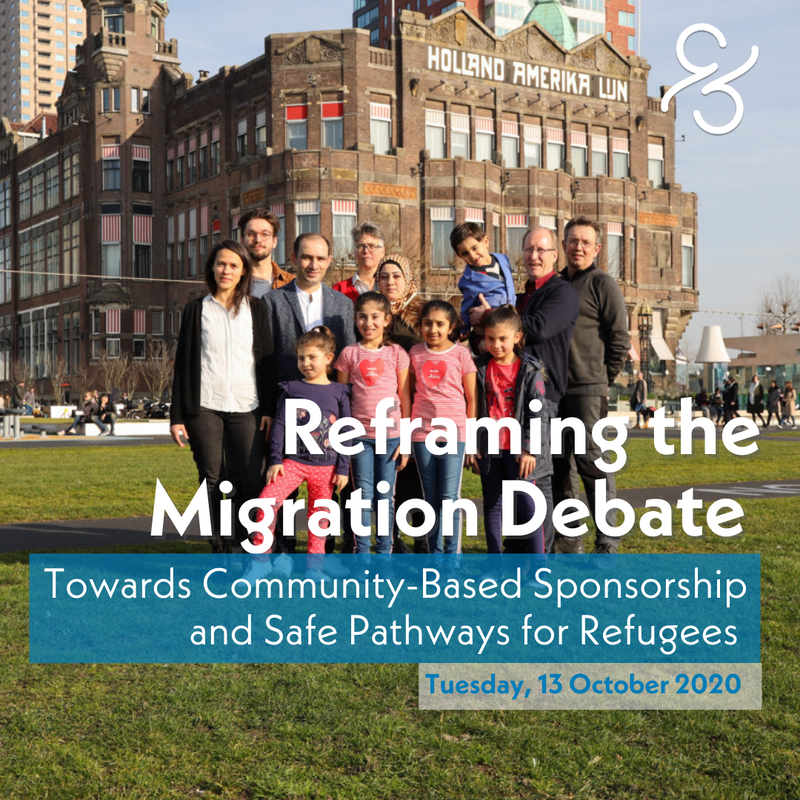 This event is part of a series of events for The Hague Just Peace Festival. Join in for our other event as well – 'ARTIVISM for Environmental Justice' 
Towards Community-Based Sponsorship and Safe Pathways for Refugees
The migration debate in Europe often focuses solely on halting irregular migration and on the success or failure of integration policies. With one percent of the world population currently displaced, too little attention is paid to the fact that refugees often don't have the possibility to reach countries through legal and safe pathways. Civilian communities and organisations across the world have therefore come up with new ways to enable these much-needed pathways and to take the lead in the resettlement and welcoming of refugees.
During this interactive virtual debate, people involved will speak about the concrete solutions that have been devised in Canada and Italy. Justice and Peace will then discusses why it is developing the first Dutch variant of community-based sponsorship through its Samen Hier (Together Here) programme.
Would you like to know more about community-based sponsorship and safe pathways? And do you want to contribute to the welcoming of refugees in your community? Join and take action! #CommunitiesintheLead  #RefugeeRights
Date: Tuesday, 13 October 2020
Time: 19:00-20:30 CEST
Language: English
Free of Charge  
Speakers 
Professor Jennifer Hyndman, York University, Canada.
For over 40 years, Canadian citizens have been able to become a "sponsor group" and bring a refugee (family) to Canada. Professor Jennifer Hyndman researches the settlement, participation and social inclusion of refugees in Canada, and has a special interest in the motivation of these sponsor groups. During the event, she will discuss her findings on the private sponsorship of refugees in Canada and provide recommendations to the Netherlands from a Canadian perspective.
Cecilia Pani, Sant'Egidio Humanitarian Corridor, Italy.
Faced with the human tragedies in the Mediterranean, Italian civilians created a safe and legal route for Syrian refugees from Lebanon in 2016: the humanitarian corridor. The programme has since been expanded to include Sudanese, Somali and Eritrean refugees from Ethiopia, and humanitarian corridors to France and Belgium. Cecilia Pani is the Programme Leader for Ethiopia of the Humanitarian Corridor of the Sant'Egidio Community. She will discuss their approach, the challenges the community faced, and she will provide concrete tips to communities interested in the Italian approach.
Maaike Graaff, Justice and Peace, The Netherlands.
Maaike Graaff is the Programme Coordinator for Migration and Human Rights at Justice and Peace. During the event she will discuss why Justice and Peace is developing a Dutch variant of community-based sponsorship through the Samen Hier programme, and what you can do in your own city or village to contribute to safe routes for refugees.
The event will be moderated by Leila Prnjavorac; presenter, radio host, storyteller, trainer and herself once a refugee.