16-06-20
Virtual Event with HRDs during COVID-19: Reflections and Recommendations
Human rights defenders (HRDs) who are in the frontlines upholding human rights have been particularly negatively affected during the COVID-19 pandemic. It is in this context that Justice and Peace saw the need to listen to the voices of grassroots human rights defenders around the world, and to invite you to together find ways of supporting HRDs through these challenging times. On June 4, we hosted a virtual event together with three former Shelter City guests, 'Standing Side by Side with Human Rights Defenders', moderated by our Security Training Coordinator, Tessa de Ryck. The event was a part of our Mural of Change campaign. 
Through our network, we have closely monitored the situation of HRDs in various countries and how the pandemic outbreak has impacted their work. Aside from the threats and risks they were already facing prior to the pandemic, HRDs are now confronted with further difficulties, such as laws which restrict their work and repress them, loss of income and funding, and the inability to visit the communities which they support, among others. With governments abusing the situation to extend their powers and with shrinking civic space, the work of human rights defenders is more critical than ever.
In many countries human rights defenders are not deemed 'essential workers' by their governments, and are deprived of support during these times of COVID-19.
During the event the audience had the opportunity to meet three human rights defenders from India, Uganda and Venezuela, and engage in a conversation with them. All three of the defenders took part in our initiative, Shelter City, and have been impacted due the pandemic. The three speakers and HRDs, Asha Kowtal, Shibolo Awali, and Génesis Dávila shared with us their experiences amidst the pandemic, and provided us with some recommendations on how we can support them and their fellow defenders. 
All three of them agreed that COVID-19 has exacerbated the human rights inequalities which already existed in their countries prior to the pandemic; that it has made communities which were vulnerable even more vulnerable; and it has increased the risks and difficulties for human rights defenders to carry out their work. 
So what can we do to support them through these challenging times of a COVID-19 pandemic? As funders, organisations, policy-makers, students and the general public – we can all be part of the support network which defenders around the world are in need of during this time. 
"There are many chances for all of us to contribute to the situation of HRDs, because each one of us is an agent of change."
– Génesis Dávila, event speaker and HRD
Reach the end of the article for some suggestions on how each of us can support human rights defenders!
Reflections from the speakers
In what follows are some reflections from our discussants on the situation of HRDs during COVID-19 from their specific contexts, but also more generally.
Asha Kowtal, women's rights defender from India, stated that "COVID-19 has further reinforced those hierarchies and discriminations that we have always faced, as India's most vulnerable and marginalised communities".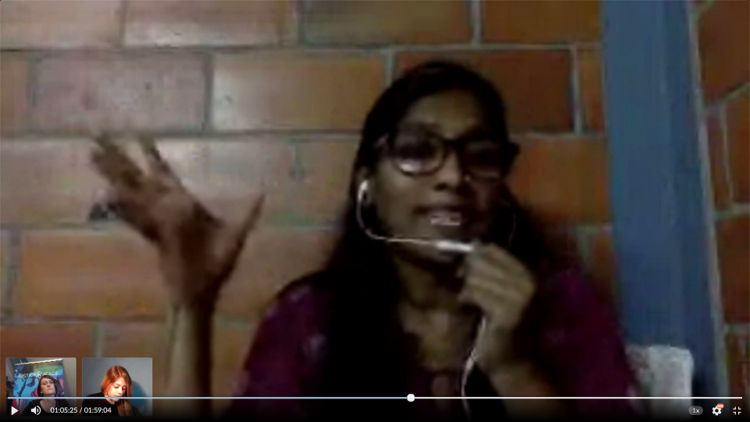 Asha spoke on behalf of the struggles of Dalit women, a marginalised group of women, part of what is known as Scheduled Casts in India. Asha and her organisation have been monitoring cases of crimes, especially sexual violence inflicted on Dalit women and girls, and want to bring a change for the human rights of this marginalised community. 
"We are hearing about increasing cases of cast crimes, but we are not able to go out and meet the survivors after incidents of violence", Asha lamented about the restrictions of movement due to the pandemic. Communication with the victims continues over the phone and WhatsApp, but support for these communities is limited at this time.
Moreover, Asha shared that she and her fellow human rights defenders "face issues of access to the internet and access to safe spaces online – we have been constantly harassed on social media and other spaces".
A similar experience was shared by Shibolo Awali, a human rights lawyer and LGBTI rights defender from Uganda.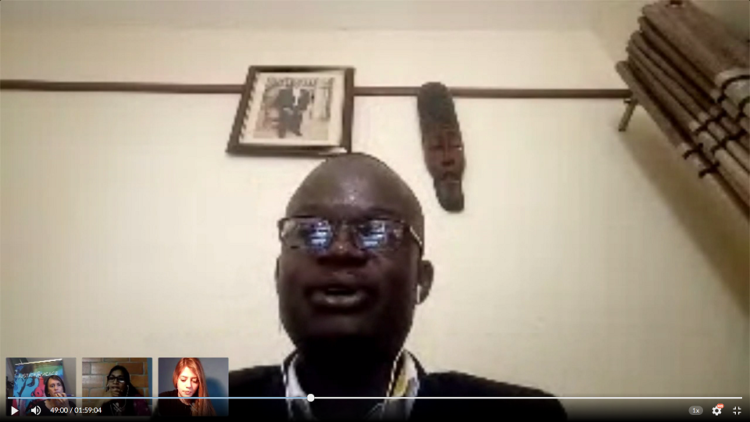 Shibolo pointed our attention to the case of the arbitrary arrest of 23 LGBTI people from a shelter for the homeless, which happened at the end of March 2020. The arrests were carried out by local authorities under the pretext of COVID-19 safety measures. The lawyers, and colleagues of Shibolo, who were defending the arrested, were unable to access their clients in prison, held there for almost 50 days (eventually the lawyers were allowed to represent the arrested in court and the charges against them were withdrawn, leading to their release on 18 May).
Shibolo regrets that in this and other cases "the situation has been tense in the way that we are unable to access the court of law, and to access the victims". As the director of an organisation which provides legal and social support to marginalised communities, he stated that they are "unable to carry out normal operations and to reach out." 
In the meantime, repressive laws adopted in response to COVID-19, have aggravated the situation of LGBTI communities, which were already oppressed due to laws in Uganda prohibiting same-sex relations, laws which carry a colonial vestige.
The restrictions placed as a response to the pandemics, have been used in another country to also restrict freedoms and increase repression – Venezuela.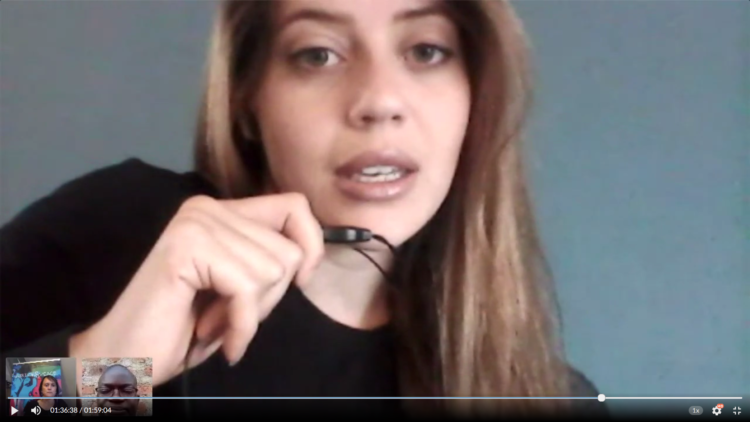 Venezuela is the country where human rights lawyer Génesis Dávila comes from, and a country which has been facing a political, economic, humanitarian and a human rights crisis over the last 5 years. "The situation of COVID-19 was an opportunity for the regime to repress further", stated Génesis. 
"Every time that someone goes on the street, raises their voice and demonstrates against the regime, they take advantage of the situation and put them in jail". Génesis highlighted the cases of journalists, political leaders, students, academicians and human rights defenders who have been victims of such repression by the Venezuelan regime during the pandemic. 
"These days have been difficult for human rights defenders", said Génesis, highlighting that many attacks are currently taking place against human rights organisations. "But our commitment is that – when days are complicated our work is needed the most", she continued. 
It is essential that in this moment the wellbeing and mental health of defenders and activists is also addressed, as they, like everyone else, are facing uncertainty and are falling into depression. Asha highlighted that "the activists are human beings as well, and how we are operating before, during and after the situation of COVID-19 also depends on how we feel within our own selves". 
Still, our discussants did not go without acknowledging the resilience of the communities they are working with, and the resilience of the human rights defenders who are protecting them.
And yet, human rights defenders need our support! This is why we have compiled a list of recommendations, which the three speakers and HRDs provided us with following a careful reflection.
Recommendations from the speakers:
Funders and other financial supporters

should consult with and include the ones affected from COVID-19, such as HRDs, in the decision-making about the distribution of funds at this time; this needs to be done in a timely manner and needs to follow a tailor-made approach, in order to meet the specific needs of the beneficiaries of the funds;

Students and academics

can support HRDs through academic contributions, by developing articles and doing research on matters that affect and concern the work of HRDs and their communities at this time of COVID-19; this will help bring an academic perspective and a better understanding of the situation and its implications;

Governments

should use their standing to advocate for and push processes in international organisations on issues pertinent to countries other than their own, and ones which are severely affected by COVID-19; this can help hold states violating human rights accountable and contribute to a more peaceful global landscape during and after COVID-19;

Individuals and organisations

worldwide should support local and community based organisations (NGOs) and grassroots activists, which already have the expertise and experience of working on a specific issue in their specific context; this will strengthen the agency of the people and communities on the ground and will make them part of the decision-making on matters that are affecting them directly during this pandemic;

Organisations

should support HRDs with their digital security during COVID-19, when most of their work is carried out online; trainings on how to use digital spaces safely and efficiently are needed, as well as electronic devices, equipment and internet connection which many defenders are lacking;

Organisations

supporting HRDs should also focus on their wellbeing and provide defenders with mental health support which is often sidelined, but is crucial especially during the times of COVID-19;

Policymakers and organisations

should use an intersectional lens in the making of policies and strategies concerning human rights during COVID-19; this will help address all the dimensions of an issue and their intersections, and will have a positive impact at a later stage of the implementation;

Journalists and policymakers

should consider incorporating a bottom-up approach to their work and using as a vantage point the position of the people on the ground, who are often the most marginalised and affected in times of crisis such as this pandemic;

The general public

should engage in providing solidarity to the ones most affected during this pandemic; a global discussion should be had on how this crisis has affected people who were already in a dire human rights situation, such as refugees, and we should all come together to take action; this will help build resilience for the ones most affected and support them through these tough times;
At Justice and Peace, we are looking at ways how to incorporate these recommendations and those from other human rights defenders in our network. During this time, we are offering online security and wellbeing trainings, and other support where possible to HRDs around the world, and contributing to spreading awareness about the importance of HRDs and their work.  
As our discussant Asha summed it all up – "the traditional ways of support may not work now; everybody has to look at alternatives that actually work on the ground; talking or listening to the defenders is key; and tailormade approaches are needed". 
Human rights defenders around the world continue to defend our rights and freedoms despite the increased risks brought by COVID-19. We invite you, in your own way and in your own capacity, to stand side by side with human rights defenders through these challenging times. Thank you!
To watch a replay of the event, go to the event link.