Viktoria, "It is important to immerse newcomers in local society"
Written by Eva Schouten
Date: 03-2023
Viktoria lived most of her life in the southern Ukrainian city of Zaporizhzhia. When the war broke out she felt the urge to move. Even though all of her family and friends stayed in Ukraine, she decided to leave without a clear destination in mind. She ended up in the Netherlands and stayed with two host families before moving into a dormitory for people from Ukraine. Owing to her contact with Dutch families and her work, she quickly managed to build a social life in the Netherlands. She works as a waitress in a restaurant in Leidschendam, follows painting classes and dancing classes. In this interview Viktoria shares her experiences and how they have shaped her, and emphasises the importance of connections and interactions with Dutch residents. By sharing her story she hopes to inspire Dutch residents and Ukrainian newcomers to meet, connect and learn from each other.
"It supports newcomers when they have the opportunity to be involved in Dutch life. Standing side by side, walking together, speaking Dutch and learning the language together with Dutch residents."
How are you doing? If you compare yourself to the Viktoria who came to the Netherlands a year ago, what has changed?
First of all, I feel very strong inside. I gained power by going through this whole situation, the moving and all the challenges from the last year. Also, before the war broke out I loved to travel. I wanted to travel all the time, it was my passion. But this changed when I moved to the Netherlands. During this year I found that travelling doesn't appeal to me so much anymore. The first time I realised this, I was shocked. I was able to move to different places, restart my life somewhere else, but it didn't appeal to me. If you would ask me where I most want to go now, I would choose Ukraine, the place where I have my relatives, where I have my soul.
What I like, is that I learned to be more responsible. I learned to be more scheduled and organised. And I became more mature in practical things. I had to take responsibility because, although many people supported me, I came here by myself. No one can dance this dance for me. I am grateful for that.
What are Ukrainian refugees experiencing in the Netherlands right now? Is there an overarching, shared experience?
I believe everyone is experiencing something personal. Generally, of course, all Ukrainians understand that nothing is permanent, you cannot save any material things, you cannot even save someone's life. I think everyone got that. But the war gave each of us the opportunity to learn something about ourselves, something personal.
Is there anything that is needed right now for Ukrainian refugees? What role could Dutch residents take to support them?
I truly believe that it is important to immerse Ukrainians in local society. Ukrainians get discount for some social activities such as sports, the swimming pool and zoo. This is really nice because it gives people an opportunity to become socially involved in society. I think it is important to participate in the Dutch way of living and connect with Dutch people.
I had two host families. I stayed with the first family for five months. I still remember how they came to pick me up from the train station. The moment I saw them, I understood that they were going to be my Dutch family. They really became family, they helped me a lot and I was welcomed. They shared almost everything with me, tried to get me involved in all kinds of activities and I met their family and friends. Honestly, it is unbelievable that people can be so kind, open and welcoming. I was totally immersed in Dutch life. I was living with Dutch people, working with Dutch people and enjoying social life with Dutch people. I met my host families again just yesterday.
It supports newcomers when they have the opportunity to be involved in Dutch life. Standing side by side, walking together, speaking Dutch and learning the language together with Dutch residents. Even if it's temporary, this is important for a newcomer because it makes you feel like you are not alone.
Interaction and direct contact, for example with a Samen Hier group, supports the immersion of newcomers in local society. What would you like to do if you were matched with a Samen Hier group?
Spending time together, cooking together, going for a walk, sharing our experiences. We were playing a game with my family yesterday and it was so much fun. You don't even need language for that, your body language speaks for you.
And of course people need to be open. I got most support from people who were open and honest, and just tried to act from their heart. This is what works, taking someone by the hand and showing them the world.
Is there an aspect of Dutch culture that is similar to Ukrainian culture or something you particularly like? What are the differences?
Generally, we are different. Mentality is different, food is different, the way of living is different. Dutch people are more active. They are really energetic. That is probably why the speed of the society is different. Ukrainians are a bit more relaxed. I remember the first lesson my host Daniella told me: even if you are five minutes late, you have to let people know that you will be late. The only way to truly understand a society is by immersing yourself in it. I can say it was better for me because it was a personal challenge to learn more about the society.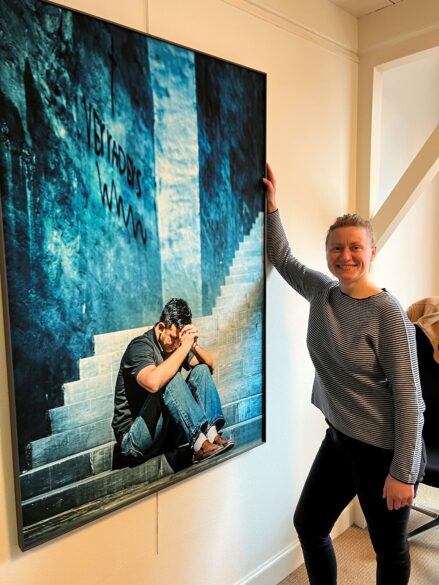 What do you hope for the future?
I see a future in my own house. The country is of secondary importance to me. The first thing I focus on is the feeling. I want to feel at home. I want to wake up in the morning and feel like I am in the right place, that I want to live life to the fullest. All material things and benefits mean nothing. This feeling of home is the most important thing for me.
Via Samen Hier you and a group of friends or family can be matched with a newcomer in several cities in the Netherlands. Find out more about Samen Hier on the website.