Sarah, from Samen Hier participant to women's rights lawyer
Written by Eva Schouten
Fotography by Esmée de Vette
23-05-2022
Parents are a rock to their children. They provide support, love and care, and can speak comforting words in difficult times. But what happens when parents suddenly need that comfort themselves? When, from one day to the next, their lives change from stable and safe to uncertain and worrying, for example because they have to flee to another country for a better future? This is what happened to Sarah (14) and her family. She came to the Netherlands in 2018 together with her parents, younger brother Mohammed (10) and older brother Ahmed (18). They stayed in different refugee centres for two years before they finally settled in The Hague and participated in Samen Hier. This is the story of Sarah and her family, from the perspective of a child.
At a young age Sarah and her family moved from Yemen to Dubai. That is where her father found a job and her mother stayed home to look after the children. Despite being just a little girl Sarah could already see the differences between citizens of the United Arab Emirates and migrants like her. Some migrants did not get the same opportunities and could not attend the same schools as the local children in Dubai. During those years, the situation in Yemen worsened. That is why Sarah and her family ultimately ended up in the Netherlands.
This was a big change, not in the least because of the difference in scenery. Unlike Dubai, the Netherlands has almost no skyscrapers. Nevertheless, Sarah said she felt welcome from the start. People were friendly and she had nice teachers who did not expect her to know Dutch immediately. Moreover, their stay in a refugee centre would only be temporarily, maximum four months, or so her parents thought. But this was a miscalculation because of skyrocketing waiting times at the Immigration and Naturalisation Service. Four months became two years.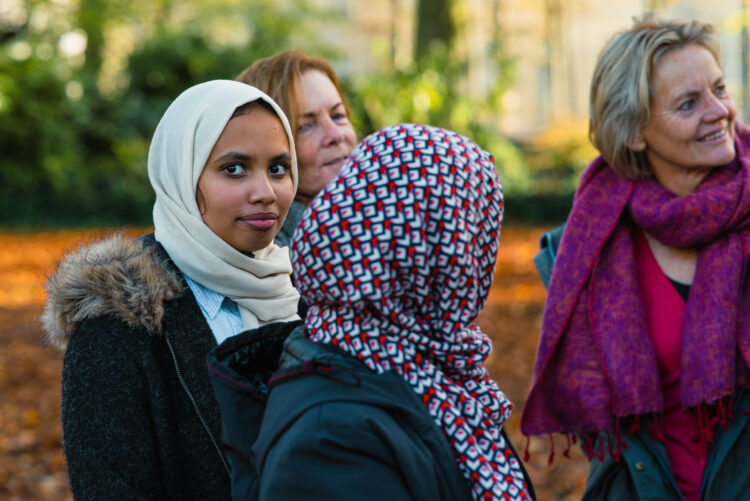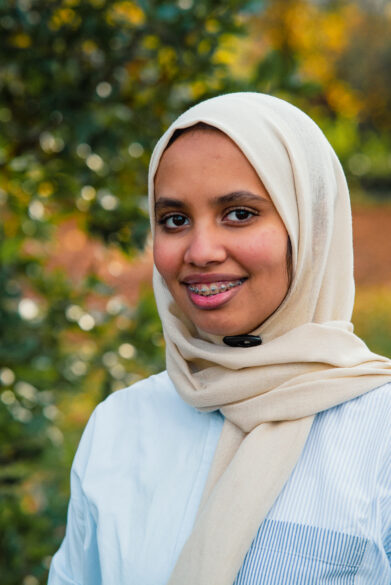 At the age of 11, Sarah AlMaadhi came to the Netherlands with her parents, older brother Ahmed and younger brother Mohammed. After spending two years in different refugee centres they received their current home in The Hague. They were warmly welcomed by a Samen Hier-group. Samen Hier is a nationwide movement of citizens and organisations that wants to change the way in which people who were forced to flee their home come to the Netherlands, as well as the reception of refugees, through the implementation of community sponsorship.
Growing grey
Against the background of her room Sarah talks calmly about this time. It was not good but also not terrible. "Some people say that it is traumatising because you are living in one room with many different people." A stay in a refugee centre is far from pleasant. People from all over the world, each with their own language, culture and customs, are living closely together for months on end. They share limited facilitates, sometimes even rooms. It was a very stressful time for Sarah's parents. Sarah, 11 years old at the time, noticed that they were worried. She could see it from the lines in their faces, the concerned look in their eyes and the hair of her dad growing grey more swiftly.
"Some people say that it is traumatising because you live in one room with many different people."
"But," Sarah continues, "it worked out in the end, luckily. And we got used to it." And while Sarah and her brothers played outside and followed Dutch lessons the last arrangements were finalised and the family found a new home in The Hague in 2020. Sarah first attended an international transition class which provides a basis for young newcomers in the 12-18 age range to progress into the Dutch education system. By that time, her Dutch was already so good that she could do the Cito-test. She obtained VWO (pre-university education) level and could transfer to the first grade at the Johan de Witt school group.
Young, cheerful and a little bit cheeky
In the beginning she did not talk about her refugee background because she was scared that other children would bully her about it. She overheard a few classmates talking about her behind her back during the first month in her new school, thinking that she could not understand Dutch. When Sarah reported this to her teacher, the behaviour stopped immediately. Now, Sarah has a vibrant social life. Her cheerfulness and enthusiasm are evident and uplifting during our interview. "My mom always says that I am a very social person," Sarah says. "Wherever I go, I always make friends." Building new friendships comes easy to her and the language of friendship seems universal. Both in Dubai and the Netherlands she is drawn to the same type of girls. Open, cheerful and a little bit cheeky. Just like her. She tries to keep in touch with friends from Dubai. The day after the interview she plans to go to a fair in the city with her friends in the Netherlands.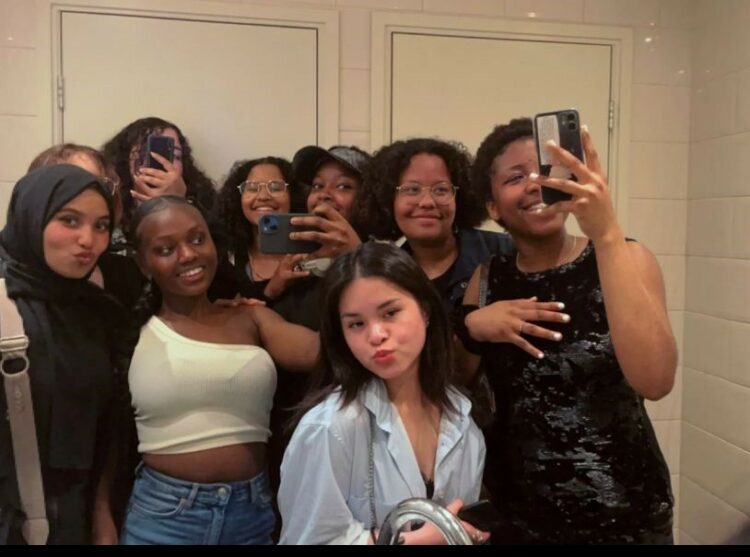 It is clear that Sarah feels completely at home in the Netherlands. "I was on a holiday to Turkey. But after a while I missed my home, I missed my room." Upon return in the misty Netherlands, she sighed with relief. Home again. Even the rain, so often berated, she had missed during her time away. This does not mean that she forgot about her Yemenite roots. The connection that she feels with her country of origin is ever strong. She feels and calls herself a Yemenite girl. "I will never forget my roots, but the Netherlands is my home."
"I will never forget my roots, but the Netherlands is my home."
After two years in different refugee centres all across the country, Sarah and her parents were warmly welcomed by a Samen Hier-group in The Hague. From the start, Marjan, Jacqueline, Jan-Willem and Corine were ready to support the AlMaashi family and continued to stand with them for one year. The contact with the group meant a lot to Sarah's parents. They learned about Dutch culture and customs. "My parents always came home with a big smile and talked to us about their meetings because they were so nice," says Sarah. She also joined the group once.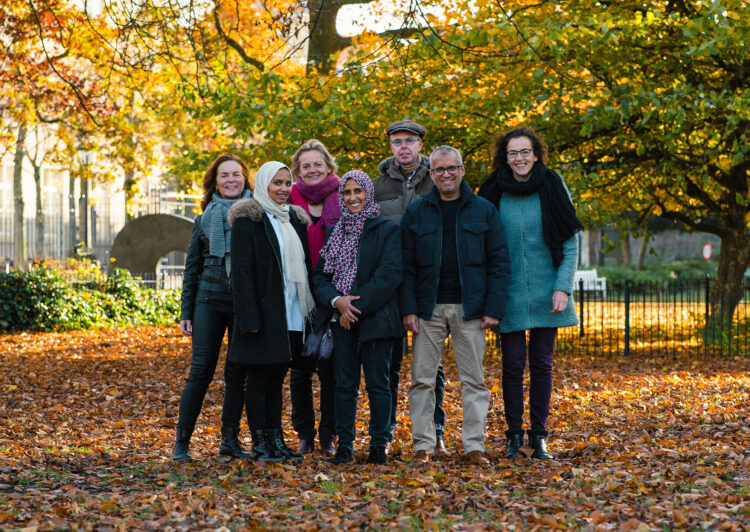 Women's rights lawyer
The year of Samen Hier finished but the contact with the group remained. Currently, Sarah's parents are busy applying for jobs. The group helped translate their resumes to Dutch. Sarah's father used to work in the non-profit industry and cannot wait to start working again. "My dad is tired of staying at home." At the moment he works as a volunteer translator for VluchtelingenWerk Nederland. Her mother wants to start working as well. She is a descendant of a famous medical family in Yemen. Her father, Sarah's granddad, late Dr. Ahmed al-Moayed, was a famous kidney surgeon and founded the al-Moayed hospital in Sanaa where most of the family works. In the Netherlands, Sarah's mother hopes to continue her work as a nurse.
Despite her mother's wish to carry on this family tradition in healthcare, Sarah does not want to pursue a medical career. Instead, she would like to study law and become a lawyer defending the rights of women and girls in Yemen. Unfortunately, some girls from poorer backgrounds are still unable to attend school, are subjected to arranged marriage or face exploitation. "There are many people in Yemen working in healthcare but there are not enough lawyers."
"There are many people in Yemen working in healthcare but there are not enough lawyers."
She is grateful to her parents for giving her the opportunity to study and create a good future for herself. Hence, she takes school seriously and comes across very responsible for her age. She always tries to get good grades. Additionally, she just landed her first job as a stock clerk in a supermarket.
One day she hopes to return to Yemen and visit her family. The last time she was in the country she visited her mother's family in the north but she did not meet her father's family in the south. The only contact with them has been through Skype and Facetime so far.
As it turns out, support and comfort are no one-way traffic but rather a natural giving and taking between parent and child. On the one hand, Sarah is happy to see that her parents enjoy the contact with the Samen Hier-group. She is grateful to them that they came to the Netherlands for a safer and better future, she works hard in school to realise her potential and dreams of a career as a women's rights lawyer. On the other hand, her parents can be proud of her cheerfulness and the seeming ease with which she navigates two different cultures. Sarah was born in Yemen but is home in the Netherlands. "The Netherlands is my hero. It is just my home."