Olena, 'Scheveningen feels like home'
This is the story of Olena, a newcomer to the Netherlands, a psychologist, who fled Ukraine after the war broke out. She is now living in the Hague with her youngest son.
'I come from Mariupol, where I lived with two sons – Kyrylo (16) and Mykhaylo (21). I have been working as a psychologist since 1999 with both children and adults. I had a comfortable life – a job I loved, family, freedom and security. My sons and I, we are a close-knit family. Mariupol is a seaside city, so the beach was a big part of our lives. Jumping ahead, I'll say that the beach was the very first place where I went in the Hague. It was the end of May, and I ran barefoot to the water, emotions were overflowing. It felt like a piece of home. The sea is my happy place.'
'The beach was the very first place where I went in the Hague. I ran barefoot to the water, emotions were overflowing. It felt like a piece of home.'
'The day before the war, I had sessions with clients, my schedule was full for the upcoming weeks, and then the next day everything changed. We didn't know where to go, so we just took a bus to Krakow, where we spent over a week with a host family. There, I was able to catch my breath for the first time and went straight back to work. Work was one of the few things that kept me going. Speaking of our further journey to the Netherlands, I knew very little about the country before coming here. Through my network, I found a family who was willing to host us. That's how we ended up here. Looking back now, I believe we are at the right place. I not only feel safe here, but I feel at home.'
A new home in the Netherlands
'I really like Voorburg, and The Hague, and its surroundings. I like how nature and city life are combined here. My favourite place in The Hague is the Binnenhof next to the lake. Every time I go to the city, I make sure to visit it. This place holds some kind of power for me.'
'I believe that Ukrainian people have a lot in common with Dutch. The main quality that brings us together is freedom. Freedom of thought, action, when a person is able to express their opinion.'
'The past year has been very challenging for us. Now, a year later, I noticed a switch in myself. I had the desire to redecorate the space where we live in, get new plants, hang paintings on walls. I see it as a sign of adaptation to the life here. I continue to work, volunteer. I love my job and no matter where I am, I believe this is something I will always do.'
'My work is my energy source.'
'I am a very social person, easy-going. I love to study. Being a psychologist means constantly learning and improving your skills; this is a field that does not stand still, and you have to keep up. I see that my knowledge is valid here, but the main obstacle and goal is the language. Now, both at work and personal life, my circle mainly consists of Ukrainians. I would like to communicate with the locals to practice Dutch and gain a group of friends. It would be great if there are people of my age with whom we will be on the same page. I crave company to go biking, go to the beach or simply meet for a cup of coffee.'
'When a person arrives in a new country and rebuilds life from the ground, interaction with the local people is vital. How else, if not from the locals, to learn about the country? Only through connecting, you can find out how this society lives. It is necessary in order to become a part of it.'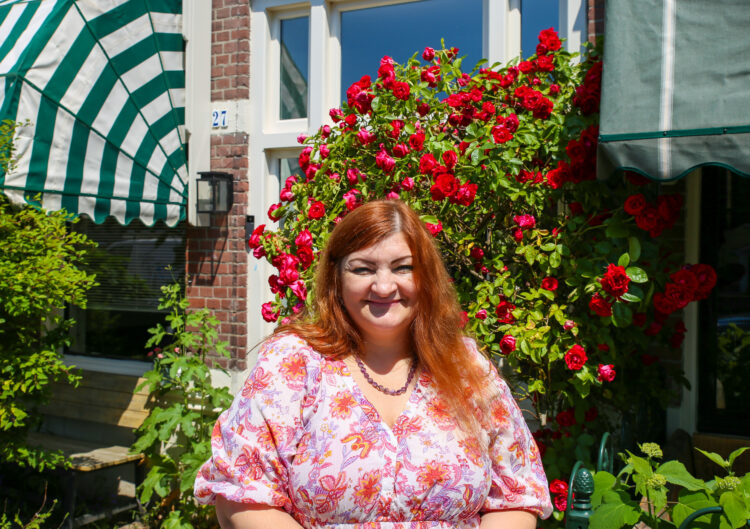 Now that the war in Ukraine unfortunately seems to persist, Olena has signed up for Samen Hier to be linked to a group of Dutch local residents from her area. The initiative aims to foster local solidarity with refugees and realise a more humane policy for the reception and resettlement of refugees in the Netherlands.