Mpanzu, all-rounder activist
In 1994 his mother fled with him and his brother from Congo to the Netherlands. After waiting for 13 years – with a residence permit and a diploma in his pocket – Mpanzu Bamenga, now living in Eindhoven, chose a socially engaged life. The ambitious all-rounder transforms his negative experiences into positive action in his roles as councillor, activist, founder of The Dutch Inclusion Leaders Network and ambassador of Samen Hier Amsterdam. For his efforts against ethnic profiling, he received the title Human Rights Human 2021, the annual prize of the Netherlands Institute for Human Rights.
March 2022
Written by: Patrick van Wersch
Translated by: Eva Schouten
Photo on top: Merlin Daleman

"A leader is pragmatic and holds on to his ideals. I wanted to do something with that"
He enters the court with a straight face. The Palace of Justice in The Hague: the heart of Dutch jurisdiction. Suited up and holding a protest sign saying 'Royal Military Police: Stop ethnic profiling', he poses in front of press cameras. Mpanzu Bamenga, originally from Congo and currently living in Eindhoven, calls out injustice wherever he finds it. For example, when he was singled out and searched at a Dutch airport after returning from a freedom speech he gave in Italy.
This check at Eindhoven airport, more than three years ago, is the most striking example in the court case against the Dutch state that Mpanzu started together with Amnesty International, Controle Alt Delete, PILP (NJCM), anti-discrimination bureau RADAR and a pilot. They want to ban ethnic profiling at the border. On 22 September 2021, the court ruled that ethnicity may be considered during checks at the border and that this is not discrimination. On the other hand, the Council of Europe stated that ethnic profiling in all its forms must be combated. In November 2021, the Royal Military Police announced that they want to stop ethnic profiling because of legitimacy reasons and public trust. In the meantime, the coalition appealed the court's decision.
Working on perspective
The resolution of this case is very important to the D66 council member from Eindhoven. But it is certainly not the only thing on his mind. Mpanzu is an ambitious all-rounder who works for justice, inclusiveness and peace in many different ways. Since 2019, he has worked as a coordinator of Steering Group Undocumented People Amsterdam together with people without a residence permit to work on their future perspectives. This is a pilot running in Amsterdam, Groningen, Rotterdam, Utrecht and Eindhoven with the involvement of numerous governmental and societal organisations.
"Perspective can take many different forms," according to Mpanzu. "For undocumented people, this usually involves returning, continuing to migrate to another country or staying in the Netherlands. But it is more than that. Some people have been here for more than twenty years without any outlook. By really working together we can give people clarity and a sustainable perspective for the future, and there will be less administrative pressure."
As a coordinator, he speaks to people in shelter locations during sounding board meetings, including discussions about the impact of COVID-19. In Amsterdam, for example, the applications of people without a residence permit must be processed within 18 months. But the pandemic is causing great delays with lawyers and hospitals, hence this deadline cannot always be met. Mpanzu takes such insights to the steering group in order to decide whether the deadline should be extended. Most important to him is: Nothing about us without us.
Born to build bridges
Mpanzu, a lawyer by training, believes that the right to representation is a great good. And leaders need to uphold this strongly. He got this insight during a workshop by David J. Johns, who directed the 'White House Initiative on Educational Excellence for African Americans' under president Barack Obama. According to Johns, Obama could have achieved more if he had transformed the ideals of his campaign – Yes, we can! Change, we can believe in – into a social movement to create public support for progressive and inclusive policies. This statement was "an eye-opener" for Mpanzu. "A leader is pragmatic and holds on to his ideals. I wanted to do something with that." Not long after, he started 'Incleaders' –' The Dutch Inclusion Leaders Network' – with a few companions. Their goal is to promote inclusive decision-making and improve talent development.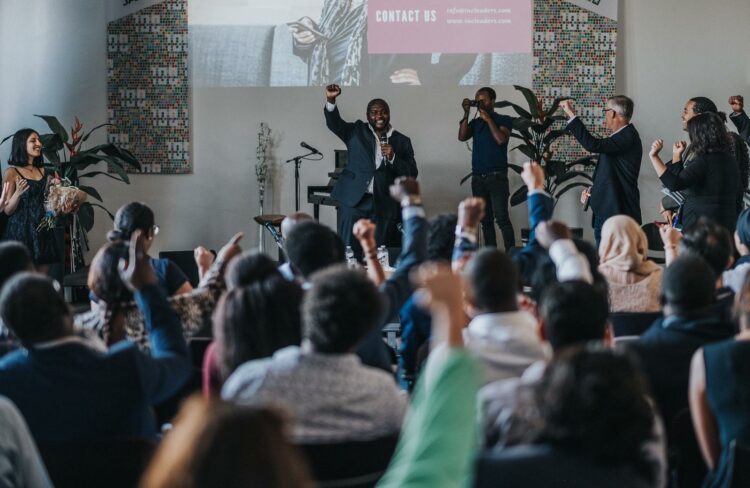 Mpanzu is noticeably proud of Incleaders which regularly organises lectures and debates with leading speakers from various countries, sectors and parts of society. He was born to build bridges, preferably across borders. This talent showed itself at an early age but lacked direction for a long time.
No chance for feelings of revenge
"This sparked my passion to do good and fight for justice even more."
Mpanzu was eight when he fled from Congo to the Netherlands in 1994, together with his mother and brother. "My life was pretty shitty. I could not work or travel. I had to wear the clothes of my six-year-older brother. I became increasingly aware of the difference between me and my classmates." After waiting for years, he received a letter saying: "You have to leave the country". However, a few months later this letter was followed by a residence permit from the minister. From that moment onwards, it became clear for Mpanzu what he wanted to achieve in his life.
One time during a Dutch lesson at the mavo (prevocational level, red.), Mpanzu told his teacher that he wanted to become a lawyer, that he had high ambitions. The teacher laughed at him. He was reminded of what his mother taught him: always be proud and strive for the best. "My mom always joked that I belong to a royal bloodline and therefore carry the quality of leadership within me. She is an early role model for me. Just like my brother, who was the captain of his basketball team PSV Eindhoven."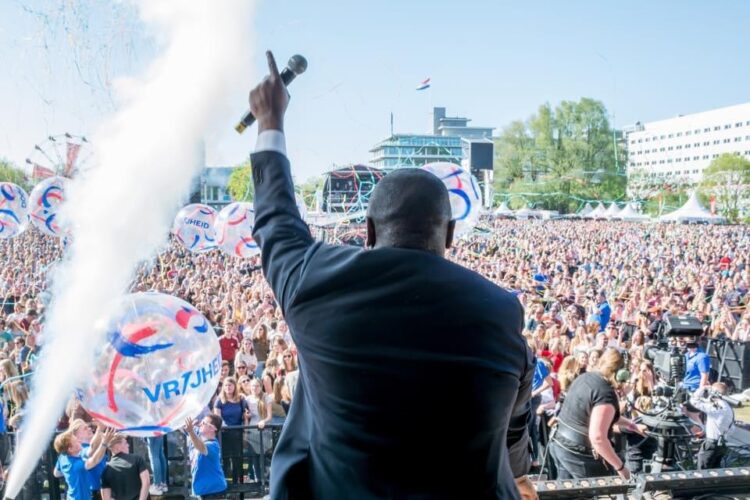 However, Mpanzu's sister was the first person that sparked his activism. First living in France and then in the USA, she stimulated him to write letters to American inmates through Amnesty International. He learned about his sister's sudden death right before his graduation ceremony. She had just sent him a text message that she would come for a surprise visit for his graduation party. On her way there, she was unjustly detained in an American prison cell. The border police did not believe that her French passport was real and wanted to investigate it. In the cell, she was not allowed access to her heart medication and she passed away. . Mpanzu did not give any space to his feelings of hatred and revenge. "This sparked my passion to do good and fight for justice even more."
Samen Hier in Amsterdam
With a residence permit – after waiting for 13 years –and a degree in his pocket, Mpanzu, who now lives in Eindhoven, chose to live a socially engaged life. Friends challenged this decision: "Mpan, you're another black man choosing a public life. We also need black entrepreneurs!" But he had already made up his mind. "Sometimes I think I had a hard life, but others have it much worse. We have this starting point because other people played their part. I feel an additional responsibility. That is why I do what I do."
He expresses this feeling of responsibility in his role as ambassador for the creation of Samen Hier in Amsterdam. Samen Hier is a nationwide movement of citizens and organisations that wants to change the way that people forced to flee their homes arrive and are welcomed in the Netherlands. The initiative follows the community sponsorship model and focuses on active citizenship. Sponsor groups consist of five citizens who are matched to a person or a family with a refugee background who live in a refugee camp or have arrived in the Netherlands. Over the course of one year, the group ensures a warm welcome and positive start for the newcomers in their new place of residence. This immediate connection with a large and diverse network makes it easier to build equal and meaningful relationships. Justice & Peace is the first to implement a Dutch variant of the community sponsorship model and aims to create safe havens and safe routes for people who have fled. Also in Amsterdam.
"A great concept," says the council member. "There is a lot of public support for asylum and integration for newcomers, especially when it hits close to home. I saw this in Eindhoven during the opening of a new asylum centre and the introduction of the bed-bath-bread-and-guidance regulation. But also in other cities, such as Amsterdam, people are willing to contribute. And if it does not work through the government, it will work through society, especially when there is public support. Integration happens locally so it makes sense to place part of the responsibility there, too."
Mpanzu will continue to take responsibility. Especially now, 70 years after the signing of the UN Refugee Convention in 1951. There is still a lot of work to be done but Mpanzu feels strengthened and supported by his environment, experiences and dreams. And also by the words of his favourite quote by Robert F. Kennedy (1968) and George Bernard Shaw (1865-1950):
'Some men see things as they are and say why, I dream things that never were and say, why not'
Do you want to know more about Samen Hier or are you interested to start a Samen Hier community where you live? Visit the website www.samenhier.nl or contact Justice & Peace via info@samenhier.nl