16-05-23
Maastricht Human Rights Week 2023
From May 22 through May 26, 2023, we explored the past, present, and future of human rights in a variety of activities throughout the city of Maastricht.
The 175th anniversary of the Dutch Constitution and the 75th anniversary of the Universal Declaration of Human Rights, which upholds equality, justice, and freedom for all, are both observed in 2023. This week aimed to encourage everyone to join the fight for a more just world by increasing awareness of human rights. Each day held a distinct theme:
Monday: We are all human rights defenders.
The Human Rights Week was officially launched by Mayor Penn-te Strake, followed by speeches by prominent actors in the human rights field such as Pamela Habibovic, rector magnificus Maastricht University, Wytze van der Woude, director of Constitutional Affairs and Legislation, Jacobine Geel, president of the Human Rights Board, Jan de Vries, human rights lawyer.
Tuesday: Shelter City
The day was dedicated to the opening of the Shelter City Photo Exhibition, a special tribute to human rights defenders who found a safe haven in Maastricht, and Maastricht residents and organisations that are striving for more equality. The exhibition, held at Het Beihuis until July 18, will remain open and accessible to the public beyond the week.
Guest lectures on prejudice and discrimination, and a guided city walk also took place, while the day concluded with Shelter City Night. Judge Alapini-Gansou, Roland Moerland (Director of the Human Rights Centre), Sebastiaan van der Zwaan (Director of Justice and Peace Netherlands and co-founder of Shelter City) as well as a guest from Shelter City; a panel of human rights experts delved into the role of human rights defenders worldwide.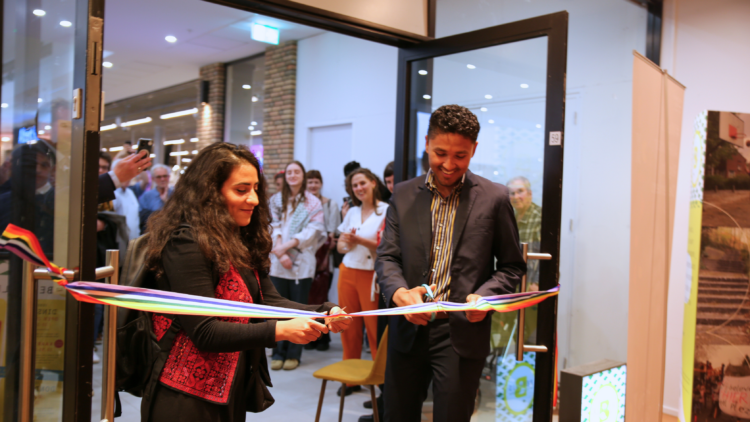 Wednesday: Future
Future generations were the focal point of the day which invited younger audiences to engage in more interactive activities and discussions.
This day placed a greater emphasis was placed on addressing and identifying inequalities on the local level. ADV Limburg, The Quiet Community, Mpanzu Bamenga (known for his stance against the Marechaussee's use of ethnic profiling), Sheila Oroschin (The Masters Maastricht), and volunteers, took the stage and indulged in thorough discussions on the matter.
Friday: Peace
A very special Peace Tree was unveiled on the final day of the Maastricht Human Rights week, a descendent  of the two Ginkgo trees that survived the Hiroshima atomic explosion, aiming to demonstrate the intrinsic relationship between human rights respect and world peace. The day examined in depth
*Maastricht Human Rights Week was organised by Gemeente Maastricht (the municipality of Maastricht), Maastricht University, Mondiaal Maastricht and Anti Discriminatie Voorziening (ADV).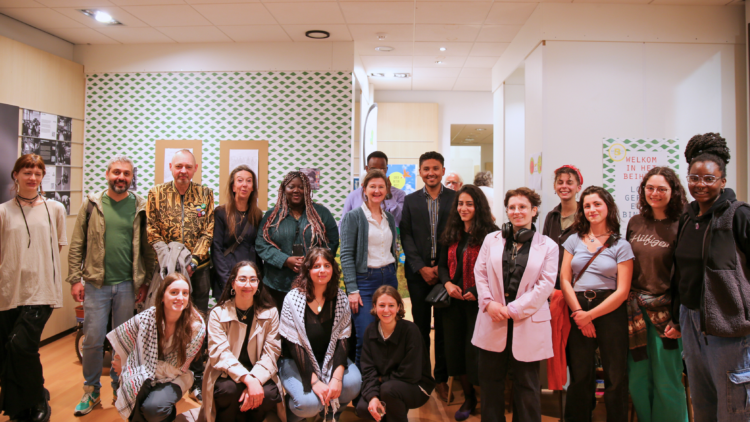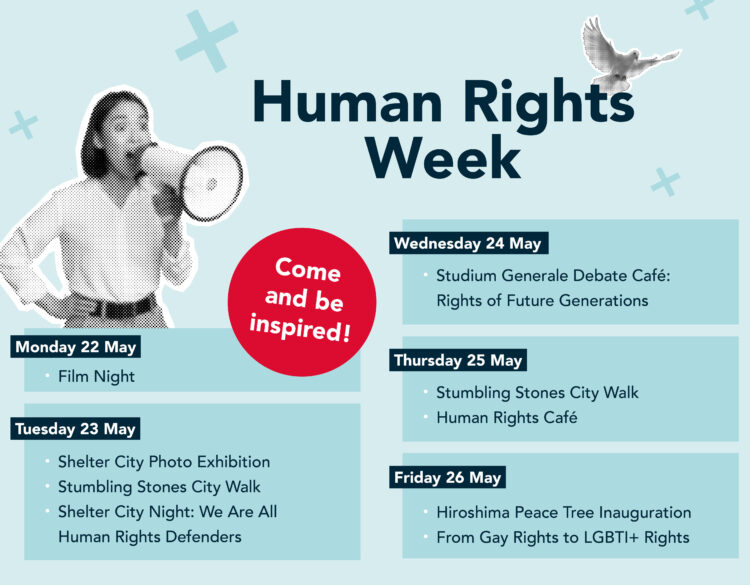 Maastricht, a Shelter City since 2015, provides a safe haven for human rights defenders at risk worldwide. Human rights defenders receive tailormade support, expand their knowledge and skills, and broaden their network with students and organizations to advocate for human rights.