23-11-20
COVID-19 & its impact on LGBTI+ communities: perspectives from grassroots human rights defenders
COVID-19 has had a great impact on all of our lives in 2020, but an even bigger one on LGBTI+ communities. Many have not been allowed to gather in the safe spaces that they have created with their communities; some even having to move back home where they often feel unsafe. Access to healthcare facilities for LGBTI+ people relying on life-saving medicine and treatment has been (even further) restricted. How has the LGBTI+ community rallied in the past year to protect the rights of its members?
"The marginalisation and a lot of the challenges which were already there for the LGBTI+ communities have been exacerbated by the pandemic" – Tessa de Ryck, event moderator
In order to highlight these important issues, Justice & Peace Netherlands and the Netherlands Helsinki Committee organised an online event on the impact of COVID-19 on LGBTI+ communities as part of this year's Night of Dictatorship.
Online discussion with Sidita Zaja and Vincent Obwanda
Our joint event, which took place on September 24, was a virtual discussion with two grassroots LGBTI+ defenders from Kenya and Albania, who brought to the forefront the impacts of government responses to COVID-19 on the work and lives of the LGBTI+ defenders and the communities they support.
Sidita Zaja, human rights defender and Executive Director of the NGO PROLGBT in Albania, was one of the two speakers. Her work currently focuses on the development sector, where she advocates and promotes capacity building for young LGBTI+ people.
The second speaker, Vincent Obwanda, is a grassroots human rights defender and the Policy and Advocacy Programme Officer at PEMA Kenya. In his work, he advocates for the human rights and social inclusion of gender and sexual minorities in Kenya.
Tessa de Ryck, Human Rights Defender Training Coordinator at Justice & Peace Netherlands, moderated the discussion.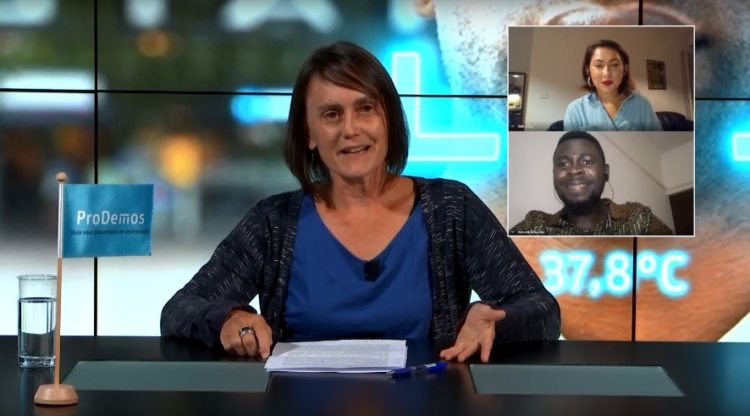 Government responses to COVID-19 and LGBTI+ communities
The event kicked off with a discussion on how government responses in the speakers' countries affected the human rights situation of LGBTI+ communities. As Obwanda explained, the Kenyan government's response had many consequences for the LGBTI+ community, an important one being the effect it had on the community's access to health services. In most cases, members of the LGBTI+ community who receive treatment for HIV/AIDS, do so in health facilities ran by community-based organisations or local NGOs, rather than the local facilities. Most of those HIV/AIDS clinics had to close down due to COVID-19, which has led to, for example, difficulties to obtain necessary medication. Overall, there has also been a de-prioritisation of required health services for the LGBTI+ community, as most attention goes to addressing COVID-19.
Worsening of stigmatisation
Moreover, stigmatisation, discrimination and hate speech have been on the rise since the start of the pandemic. According to Vincent, there exists a widespread misunderstanding in Kenya, where people blame the LGBTI+ community for the spread of COVID-19. Hate speech targeting the LGBTI+ community has consequently resulted in an increase in attacks against the LGBTI+ community and worsening of their physical and psychological health.
"Religious leaders have said that it is God's punishment for the LGBTI+ community that we have this particular virus in the country. This has spread a lot of misinformation, which leads to a lot of hate speech and attacks against the LGBTI+ community" – Vincent Obwanda
Furthermore, a rise in evictions and loss of jobs has resulted in people being forced to go live with their families again. In many cases, family members reject them based on their sexuality, which gave rise to a drastic increase in domestic violence and abuse of those individuals who have been forced to return to their family homes.
LGBTI defender Sidita Zaja echoed many of the problems presented by Obwanda. Like in Kenya, in Albania the LGBTI+ communities have experienced loss of jobs and housing, return to transphobic/homophobic families and increase of domestic violence, worsening of physiological health and wellbeing. According to Zaja, access to healthcare also deteriorated and more and more people started self-medicating – using alcohol, pills or drugs to cope with the situation. Sidita also highlighted the specifically severe impacts on less economically free women such as transgender women and sex workers during the COVID-19 pandemic.
Staying connected
Still, despite the challenges, the communities were able to persist. As Sidita highlighted, thanks to the resilience and inventiveness of the LGBTI+ community they continued connecting even in these difficult times. An example was Pride Day on May 17 in Albania, which due to COVID-19 measures could not be celebrated in-person this year. Instead, for the first time ever, Sidita, her team and the LGBTI+ community in Albania organised an online Pride with speeches by activists, artistic performances, people dancing from home, and messages of love and hope. You can read more about the online pride here.
"We added the element of having in between speeches an artist that played music; so it really kept the vitality and the energy of Pride." – Sidita Zaja
For the LGBTI community in Kenya, this was also a period of staying connected. Organising online trainings and webinars, sharing important messages on how to stay safe, and offering counselling and psychosocial support have been crucial and kept the community close.
"This was the time when the online presence and online communication was more vibrant within the LGBTI community than ever." – Vincent Obwanda
Raising awareness
Before wrapping up, we asked the speakers to share some recommendations on how they can be better supported throughout these times. An important takeaway from the speakers was that there is a need for greater flexibility from funders that fund both international- and community-based organisations. It remains difficult for organisations to reallocate funding to a pressing humanitarian issue due to funder conditions. Additionally, both speakers also greatly emphasised the importance of international-, national- and community-based provision of humanitarian aid. As governments often overlook marginalised communities, local organisations can speak out for those underrepresented communities and involve them in the policy creation process.
Zaja finished by emphasising that awareness is key.
"There is a need for support, and it especially should be addressed to communities that need it the most, which are the vulnerable ones. So, my recommendation would be that everybody is involved, everybody can help. Raising awareness is important, and talking is really important." – Sidita Zaja
Many thanks to Vincent and Sidita for their participation, Tessa for moderating the discussion, and the Netherlands Helsinki Committee, ProDemos and Beeld & Geluid for co-hosting and organising the event!
For more insights from the speakers, watch the full recording of the event below or via You Tube.