Vitali Safarov, standing side by side with human rights defenders
This story is a part of the Mural of Change series.
Sometimes you may wonder whether it is your parents who choose a name for you, or it is the name which chooses you. In the case of Vitali (meaning 'of life' or 'life-giving' from Latin), or better known as Vito, it seems like his name chose him, as his life's work has created prospects of a better life for many others. Having dedicated himself to fighting injustices and promoting tolerance, Vito created hope for a generation of young people in the Georgian civil society, and beyond.
Vitali Safarov was an inspiring young man from Georgia who dedicated himself to a more just and equal world. He believed in diversity, equality, and acceptance, and helped those around him whenever he could. Vitali was killed while standing up against hate violence. A symbol of peace and solidarity, a defender of human rights defenders, and an example that anyone can be a change maker, Vitali remains an inspiration for us and those that continue his legacy. Vitali is portrayed on the Mural of Change as a tribute to remember him and his efforts for a just and equal world, and a call to carry on his legacy of embracing diversity.
"We have five ethnicities in our bloodline, we don't distinguish people by ethnicity; why should we?", says his mother Marina Alanakyan in an interview. [1]
Raised in an intercultural family with Yezidi, Jewish, and Armenian roots, Vitali was brought up with a sense of tolerance and respect for differences. His warm and embracing nature served Vito as a great asset to become a trainer in a multicultural camp for children in Georgia, called Sources of Tolerance  – Caucasus. Between 2013 and 2017, he was an inspiring mentor and young leader to children in the camp coming from different ethnic backgrounds from countries in the Caucasus region – Jews, Ukrainians, Armenians, Azeris, Yezidis and Georgians. In the camp, Vito represented the various communities and introduced the children to the different cultures.
Mentoring and defending human rights
The camp was also the first point of contact he had with human rights, and it did not take long before he started training the children on human rights related topics. He was well-respected and admired among the children, and they enjoyed learning from him about non-discrimination and inter-cultural dialogue. Teaching tolerance of different cultures and ethnicities had become necessary in a country where discrimination and violations on such grounds had been on the rise, according to  UN OHCHR. Vito was dedicated to fighting against such discrimination, and his work with children on this topic sparked his  interest in other aspects of human rights. Following his involvement in the camp, he became not only a mentor to young people on equality, but also a human rights defender himself and a defender of other defenders through Shelter City Tbilisi.
"Only now am I starting to really know my son and understand what he was doing." (Source: Open Democracy)[2]
This is what Vito's father Leri Safarov stated regarding the magnitude of his son's vision at a protest claiming justice for Vito's murder. It is this life-changing vision which led Vito to the Center for Participation and Development (CPD), a local NGO in Tbilisi, dedicated to enhancing the rights of minorities in Georgia. Having worked with CPD at the multicultural camp, Vito had acquired the exact qualities to become the manager of youth projects in the organisation. There, he advocated for tolerance and equality among this vital segment for the future of the Georgian civil society.
Vito was also involved in the UNITED for Intercultural Action, a European network against nationalism, racism, fascism and in support of migrants and refugees. Through the network, he acquired further training in human rights, which he could then pass onto the younger generations at schools and youth camps. One of the topics Vito liked to teach students about was the importance of young people's involvement in the election process.
"The most exciting part for Vito was finding non-standard ways of helping people and human rights defenders."
Building shelter cities
Vito was an essential part of Shelter City Tbilisi. Shelter City, a movement of safe spaces worldwide for human rights defenders at risk, provides human rights defenders with the opportunity to rest and re-energise, receive tailormade support, and engage with allies. At Shelter City Tbilisi, Vito supported the defenders during their stay. "The most exciting part for Vito was finding non-standard ways of helping people and human rights defenders", shared Giorgi Marjanishvili, a close friend of Vito and Director of CPD and administrator of Shelter City Tbilisi. Next to being a case manager and digital security trainer for the project, Vitali was also a dear friend and a companion to the defenders hosted in the city. He always stood side by side with human rights defenders within and outside the Shelter. One of these instances was Vito's participation and active involvement in the preparation of a rally in solidarity with the then-jailed Ukrainian filmmaker and human rights activist Oleg Sentsov. Sentsov was detained in May 2014 and held as a political prisoner in Russia [3]. The rally was part of the global campaign 'Save Oleg Sentsov' and Vito was hoping to welcome Oleg in Georgia after his release.
"No place for hate"
Vitali did not make it until that day. A committed defender of the values of human rights and equality, he lost his life protecting these same values. On 30 September 2018, Vito found himself in the middle of a conflict between his close friends and two young men, suspected to be members of a neo-Nazi group. The conflict began when the two men heard Vitali's friends speaking Russian, and began harassing them. As an advocate against intolerance and discrimination, Vitali attempted to stop the conflict, proclaiming that Georgia is no place for hate and that he himself had a mixed ethnic background. He was violently attacked and later died of his wounds. While the two attackers were found guilty and imprisoned for 15 years, the Court never acknowledged the underlying ethnic intolerance in the attack. This case has pointed to a lack of justice [4]  in the country regarding hate crimes, as "the Georgian law enforcement ignores reports of hate crimes and assaults".
Vitali's family and his friends and colleagues all over the world continue to fight for justice for Vito. Georgia: No Place for Hate became the name of a campaign organised by Vito's colleagues in the CPD and other local NGOs who have carried on his vision. After his released in September 2019 and upon his visit to Shelter City Tbilisi, Oleg Sentsov was informed about Vitali's story and also became a part of the Georgia: No Place for Hate campaign. "Through this campaign, we want to continue Vito's legacy and fight for better and hate-free society," commented CPD's Director Giorgi Marjanishvili. Calling for solidarity and justice in Georgia, envisioning a country where people stand for each other, the campaign is evidence that Vito's vision persists. And there are brave individuals like Vito who have taken it up and keep making conscious efforts to change negative attitudes in their societies around the world.
[1] Vitali Safarov's mother: I must know why they killed my son.
[2] Open Democracy: Justice for Vito: a trial into a high-profile hate crime begins in Georgia.
[3] Open Democracy: The 'bright future' of Oleg Sentsov. 
[4] Civic Solidarity: STATEMENT by international observers representing the Civic Solidarity Platform at the appeal trial of the suspects in the murder of human rights defender Vitali Safarov. 
Do you want to know more about the Mural of Change? Click the button below and learn about this inspiring landmark in The Hague.
Read more on the Mural of Change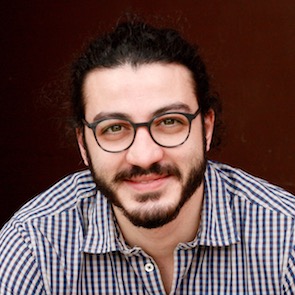 Vitali Safarov worked for a local Georgian NGO, Center for Participation and Development in Tbilisi, Georgia, supporting their projects Sources of Tolerance, and Shelter City Tbilisi, one of the 17 cities of the Shelter City movement, dedicated to supporting human rights defenders at risk.