Manju and Sanjana, building a network of belonging for students with and without a refugee background
In 2021, Unicef Student Team The Hague, together with Justice & Peace, founded the Samen Hier Student Community. This is a community by and for students, connecting young people with and without a refugee background in an atmosphere of respect and friendship. The initiators are Manju (20) who is originally from the US and studies Liberal Arts and Sciences at Leiden University College, and Sanjana (21) originally from India and studying International Studies at Leiden University.
Accordingly, Justice & Peace is working on a new Samen Hier community sponsorship variant in which the safe arrival and study of refugee students are the primary focus. The successful first edition of the Samen Hier Student Community The Hague proves that there is a lot of willingness amongst students to form communities including young refugee newcomers.
On a cold winter day in early 2021 Manju was biking towards the beach and came across a sign reading 'Buddy Network'. It was a time when she felt increasingly more isolated and disconnected as an international student living in The Hague during the COVID-19 pandemic. She came up with the idea of creating a network connecting (international) students and young newcomer refugees. Two weeks later, she pitched this idea, among others, to Sanjana at UNICEF Student Team The Hague during an interview. Sanjana, having experienced the difficulty of settling in the Netherlands as a non-EU citizen, got excited and they hit the ground running with the project. Together they created the Samen Hier Student Community in The Hague, turning this little sapling of an idea into a blossoming tree.
But it was not all roses to develop their initial idea into an actual project. They tried to look for similar projects but could not find any in the age range (20-30 years old) that they were looking for. Most projects were aimed at young children or adults. They reached out to many organisations. Some days they had back to back meetings and were constantly on the phone brainstorming with each other, but to no avail. They were on the brink of giving up when someone from UNICEF headquarters referred them to Justice & Peace.
The girls describe that they felt intimidated at first to get in touch with such a professional and experienced organisation. But they were welcomed with open arms. Justice & Peace is the initiator of Samen Hier, a nationwide movement of citizens and organisations that wants to change the way in which people forced to flee their homes come to the Netherlands. It is the first community sponsorship model in the Netherlands and matches newcomers to a group of Dutch citizens who will support them for one year. Maaike and Liselot from Justice & Peace guided Manju and Sanjana in developing the project further and provided suggestions and input from the Samen Hier concept. This was a fruitful collaboration, as Sanjana explains: "The best part about Justice & Peace was that they never told us what to do. It was always our decision and our idea that they helped us with."
Genuine interest
After setting the scene, the next challenge was to find people that wanted to participate in the project. They could tap from their own network to find students who wanted to join but finding young newcomer refugees proved to be more difficult. Luckily, they made a great effort to reach out to many organisations in the beginning and could use these networks to find newcomer refugees. They wanted to create six groups, with two students and two newcomer refugees in each. The response from students was overwhelmingly enthusiastic and more than forty applied. The organisers selected the right candidates. Manju: "We wanted to make sure that they had a genuine interest in meeting people that are from a different background, and not in a fetishizing or tokenizing way."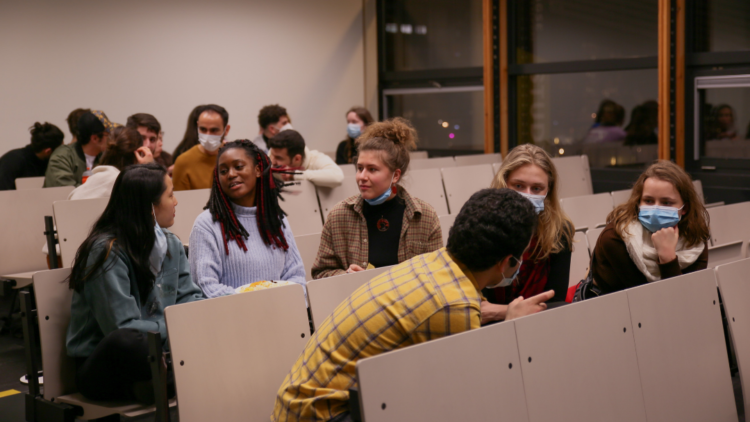 The groups were formed by the organisers based on common interests and hobbies. For example, they matched students who were very much into biking with newcomers that also liked biking or were trying to learn it. "They went on a bike trip together," says Sanjana, and Manju adds: "They became biking friends, and I think they still meet."
"We wanted to make sure that participants had a genuine interest in meeting people that are from a different background."

Restrictions due to covid made it harder for the whole group to connect and organising online events for a large number of people was a challenge. "We did online speed dating, it was very chaotic," says Sanjana. "But it was so fun!" Manju laughs. The girls created a structure with a theme, suggested activities and discussion questions for every week of the 2.5 month long project. Most groups stuck to the scheme in the beginning but their interactions happened more organically towards the end. "The most important thing we learned is that we shouldn't be acting like organisers," Sanjana explains. The structure turned out to be a good starter in the beginning and it was amazing to see that the groups took over and organised meet ups by themselves towards the end. After all, genuine friendship and a true connection cannot be forced and should happen naturally. So, did they?
Just friendship
This is indeed the most important goal of the project: to bring students and newcomers together and create genuine and equal connection. "I am a connector, I enjoy when I see people around me having fun," Manju says. They organised a final picknick on Malieveld in The Hague in June. Almost everyone showed up and the groups planned nice activities, shared food and drinks.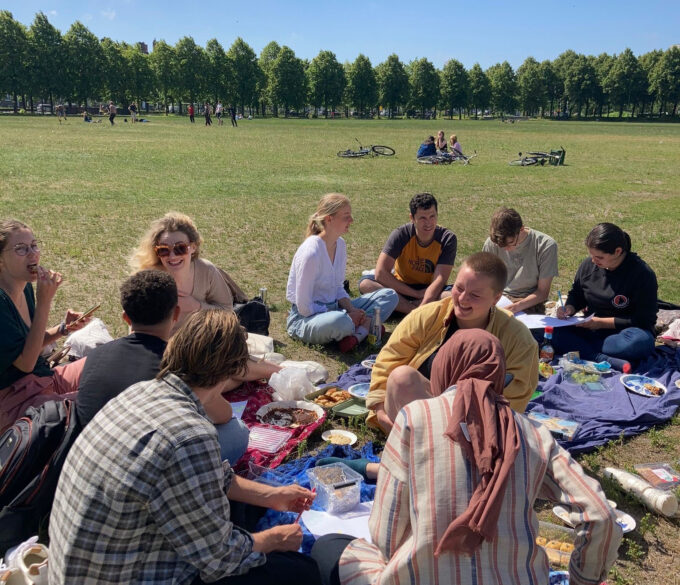 That is when the outcome of the first edition became clear to the organisers. While everyone still felt slightly awkward during the first online meeting, now they all mingled freely. "Everybody was really going out of their comfort zones," Sanjana explains. Manju agrees: "What was cool about the picknick in the end is to see that people had really connected with each other."
They describe that one of the newcomers made a video and interviewed all participants about their experiences and what they got out of the project. The common themes were that people learned to respect each other more and became friends. The cameraman himself put it most clearly: before participating in the project, all his friends were newcomers just like him. The project allowed him to meet people that weren't newcomers but also didn't pity him for his status.
"The project allowed him to meet people that weren't newcomers but also didn't pity him for his status." 
Creating connections between the groups is something that they took into consideration for the second edition which is currently underway. With most covid restrictions lifted, people can meet more informally and across groups as well. This brings the ultimate goal of creating a network of students and newcomers one step closer. "It is very gratifying," according to Manju. Even if they can only make one person feel more at home and less isolated, they are satisfied with the result and it is worth the effort. "I was almost jealous at the end!" Manju admits. Sanjana: "We really wished that we were actively a part of the project." Luckily, her wish came true. Having finished her work with UNICEF Student Team, Sanjana is currently a participant in this year's edition.
We kept each other going
As international students, Manju and Sanjana can both relate to the challenges that come with moving and settling in another country. But they are very aware that they cannot relate to the trauma that some newcomers with a refugee background experienced on their journeys. One of the participants was a political journalist, first in Turkey before he fled to China. He had been prosecuted by both authorities before he finally settled in the Netherlands and became an artist. "It is an insane story and almost all newcomers had stories like this," Sanjana concludes. It gave them a chance to look beyond their student bubble and meet people with very different backgrounds. Through these interactions, they became more aware of their own privilege, a humbling experience.
When asked if they had any difficulties or trouble during the project, the girls look at each other and start laughing. "I don't think we ever had a conflict," Manju says. "We should talk about that." Again, they laugh. It is clear that the two of them work well together. They are vibrant and energetic and naturally bounce off each other during the interview. Yet they say they are very different as people and learned a lot from each other during the project. Each brought her own strengths and weaknesses to the table. Manju came up with the idea in the first place and used her creative thinking skills throughout the project. But she needed someone to help her materialise it. "Organisation comes easy to me," says Sanjana. "I remember we were having this conversation and Manju kept writing everything in the same document, and it was annoying me so much." Manju: "And now it comes so much more naturally and easily than it did before. It has been a huge growth journey for sure."
"I don't think we ever had a conflict. We should talk about that."
The ladies really complement each other well. Even through setbacks they found support in one another. For example, when they had to reject a newcomer living in the far north of the country because they could not fund his itinerary. "We are very different as people and different things made us upset," Sanjana explains. They also kept communication open at all times and were honest about how they were feeling. This helped them in motivating each other and keep working on the project despite setbacks. "What kept us going was each other."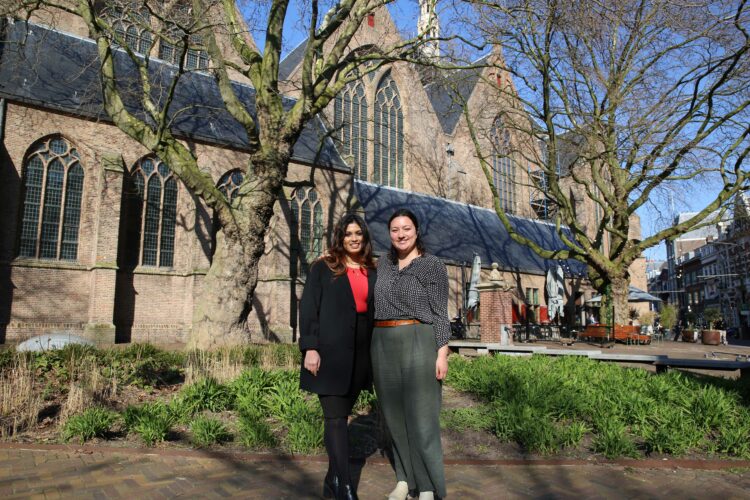 This year's project is already underway with more than 40 participants, and will run until June. When Sanjana finished her work at UNICEF Student Team, she made Manju promise to continue the project. They both hope that it will develop further and involve many more students and newcomers. The aim is to extend the project to different cities in the Netherlands, to connect more students and newcomers and to expand the Samen Hier concept to other communities. Due to Manju and Sanjana's and Justice & Peace's continued efforts and careful watering, this blossoming tree can now grow into a forest of connection.
For the new Samen Hier edition for students currently residing in a refugee camp, Justice & Peace is looking for municipalities, organisations, initiatives, universities, students, and supporters to facilitate a study placement, housing and to build student communities following the example of Manju's and Sanjana's community in The Hague.