Liesbeth, advocating a community response to refugees' needs
"It takes a village, I'm truly convinced"
06-07-2021
Written by: Patrick van Wersch
She hits the 'send' button. A millisecond later, her call arrives in the mailbox of a number of Dutch television broadcasters. According to the woman from Haarlem, there is too little attention for what Dutch society can do in order to connect with refugees, and the media should do something about it. There has been no response, but this doesn't change a thing for Liesbeth and her five friends. Their bond with the Tsegay family from Eritrea is strong: "There's a true connection there, which makes it easy".
At the start of 2020, Liesbeth Berkouwer (50) came across a call from Samen Hier, searching for groups in Haarlem. She shared it with her friends, who she has known since their studies in Amsterdam. Together, they decided to go for it. When asked why she took the initiative, Liesbeth struggles to give a clear-cut answer. She is mainly participating in order to be of value to someone else. For the same reason, she has been offering foster care to a young boy on the weekends for the past five years. "You can have such impact when you expand someone's circle – when you help others find their place. It takes a village, I'm truly convinced."
"This is especially true for refugees", Liesbeth continues with a serious voice. "You are forced to settle in a new country. That can't be easy." She likes how all women in her group contribute in their own way, and all have a unique form of contact with the family and their five kids. One of them keeps track of things to do in Haarlem for the kids during their holidays, while the other visits the family more frequently for a coffee and a chat. In this way, they all complement each other.
Liesbeth, a lawyer by profession, feels sad thinking about all the refugee families who don't have access to such a network and such friendships. This is a gap needs to be bridged, she thinks, preferably through a collaboration between local authorities and the community. "There have been a lot of cutbacks, and municipalities definitely have a part in this, but the job ultimately needs to be done by society. They are responsible for helping refugees settle in their new environment, and helping them become part of their surroundings." In reality, this responsibility now often rests on the shoulders of the oldest kids, who – because they quickly learn the language – have to make all the arrangements. They have to fill in forms, request funds, etcetera.
Liesbeth's Samen Hier group combines a very hands-on form of (technical) support with social activities. "When the family wants us to, we accompany them to a parent-teacher meeting at school or to a doctor's appointment", she shares. "Also, we have been trying to find daytime activities for father Negasi. This will now be taken over by Selam Zorg, an organisation which supports newcomers from Eritrea. But above all, we just have fun together."
This fun is often found in very mundane activities, such as walking the many dogs that are part of the group – an activity especially enjoyed by the boys in the family. Other recurring activities include library visits, playing games, or spontaneous visits for a cup of 'chicken with soup' or a strong Eritrean coffee made from freshly roasted beans. Recently, the only daughter of the family made a Mother's Day cake for her mum, Alga, with the help of one of the group members' daughters.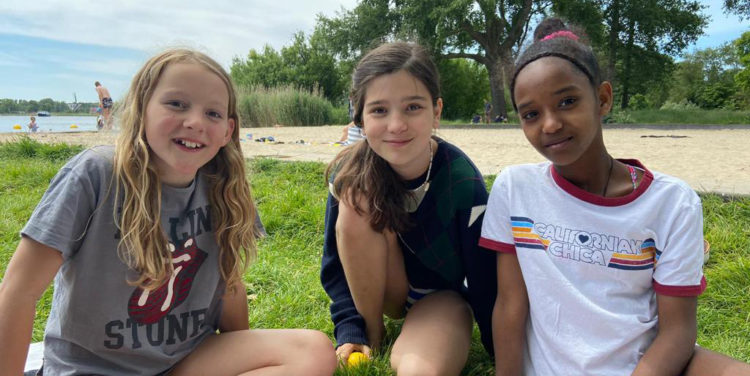 "It took some time testing the waters in the beginning", Liesbeth remembers. She mainly refers to getting to know the family's needs and learning what they could do for each other as a group. The parents had a very clear goal: allowing their kids to settle properly in the Netherlands. But how to go about this? And how to find the right balance between helping, supporting self-reliance, and getting to know each other on a personal and social level? "Throughout the year we have had several meetings in which we evaluated our needs and way of working with the help of a community-builder", says Liesbeth. "Luckily, we were always in full agreement, and we are all very happy with the match and our contact!"
This Samen Hier group consists of Liesbeth, Claire, Marja, Lorette, Danielle and Femke, and the family Alga, Negasi, Robel, Samsom, Asmait, Daniël and Aklilu.