Aether & Hemera, Safe haven: when words meet light
Written by Diane Lemieux
05-12-2022
"'Art has the extraordinary capacity to express resistance and rebellion, protest and hope. It injects a vital contribution to any flourishing democracy."

– Deeyah Khan, UNESCO Goodwill Ambassador for Artistic Freedom and Creativity.
During the 2022 edition of The Hague Highlights Festival, Justice & Peace has partnered with Aether & Hemera, the multi-disciplinary art and design studio of artists Gloria Ronchi and Claudio Benghi. Together they explore the concept of safe haven through both art and the spoken word.
What is a safe haven? What does it mean to us in the Netherlands? What does it look like to a refugee who has left everything behind? The light installation that will adorn the Hofvijver in the city's centre aims to stimulate conscious reflection on these questions, to broaden our perspectives and question our points of view.
Words
Through their Samen Hier (Here Together) initiative, Justice and Peace aims to realise a more humane migration policy in the Netherlands. This "community sponsorship" movement engages Dutch inhabitants in welcoming newcomers such as resettled refugees and (young) status holders. Groups of Dutch inhabitants support a newcomer(family) in building a new life. Apart from an informal network, the groups support newcomers in practical matters such as learning Dutch and finding a job. In this way, newcomers are welcomed into society on equal footing. Samen Hier is constantly looking for new ways to spread their vision and to make an impact.
''We've started a project with refugees and Samen Hier participants where they learn to tell their stories together with the storytelling collective Rose Stories,'' says Marjolijn Lampe, senior communications advisor for Justice & Peace. These stories will be part of the installation.
Light
Through their art studio Aether & Hemera, Gloria and Claudio use light and digital media to create public art that is beautiful to look at, is interactive, and thought-provoking. They aim to create low barrier ways to stimulate thought and discussion on what are sometimes difficult topics.
Gloria explains. 'Our art is really about people feeling something. Our hope is to convey thoughts not in a rational analogous way, but more in an emotional way. And this is the beauty of art. It doesn't need to have an explanation or long tracts with text. Our work is often a body experience. We invite people to, for instance, walk inside an installation, interact with it, see the colours. It's really a sensorial, emotional body experience that is universal. It goes to the basics of what it is to be human, beyond culture and language, beyond age and gender.'
Words and light
The opportunity for collaboration between art and activism came during the planning phase for The Hague Highlights Festival.
The installation called Voyage – Safe Haven, is a flotilla of almost hundred large origami boats. Gloria and Claudio designed the piece as a reflection on travel through time and space – going back to when we were children playing with boats on a stream, imagining adventures, wondering where the journey would lead us in the future.
From 14 to 18 December 2022, Voyage/Safe Haven will take a central position in the city's Hofvijver, right behind the parliamentary buildings. Using a mobile phone app, viewers will be able to change the colours and patterns of the boats, stimulating reflection on what it means to leave, to arrive, to move, to flee, to become something new, somewhere new.
Claudio: 'We are saying something that is clear and important but we're not telling people how it should be. It's giving them an opportunity to engage with ideas and in a context that is open, welcoming, warm, and empowering. We give visitors the opportunity to step in and make choices for themselves.'
In their search for new ways of involving audiences in human rights, Justice & Peace has been increasingly exploring the power of art and artivism.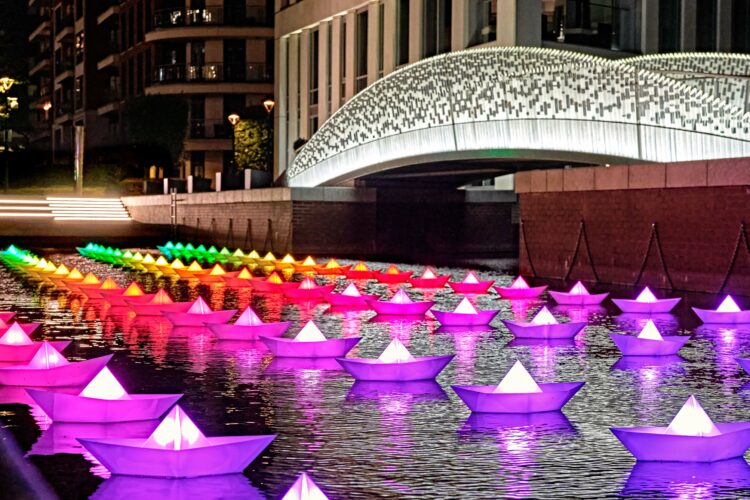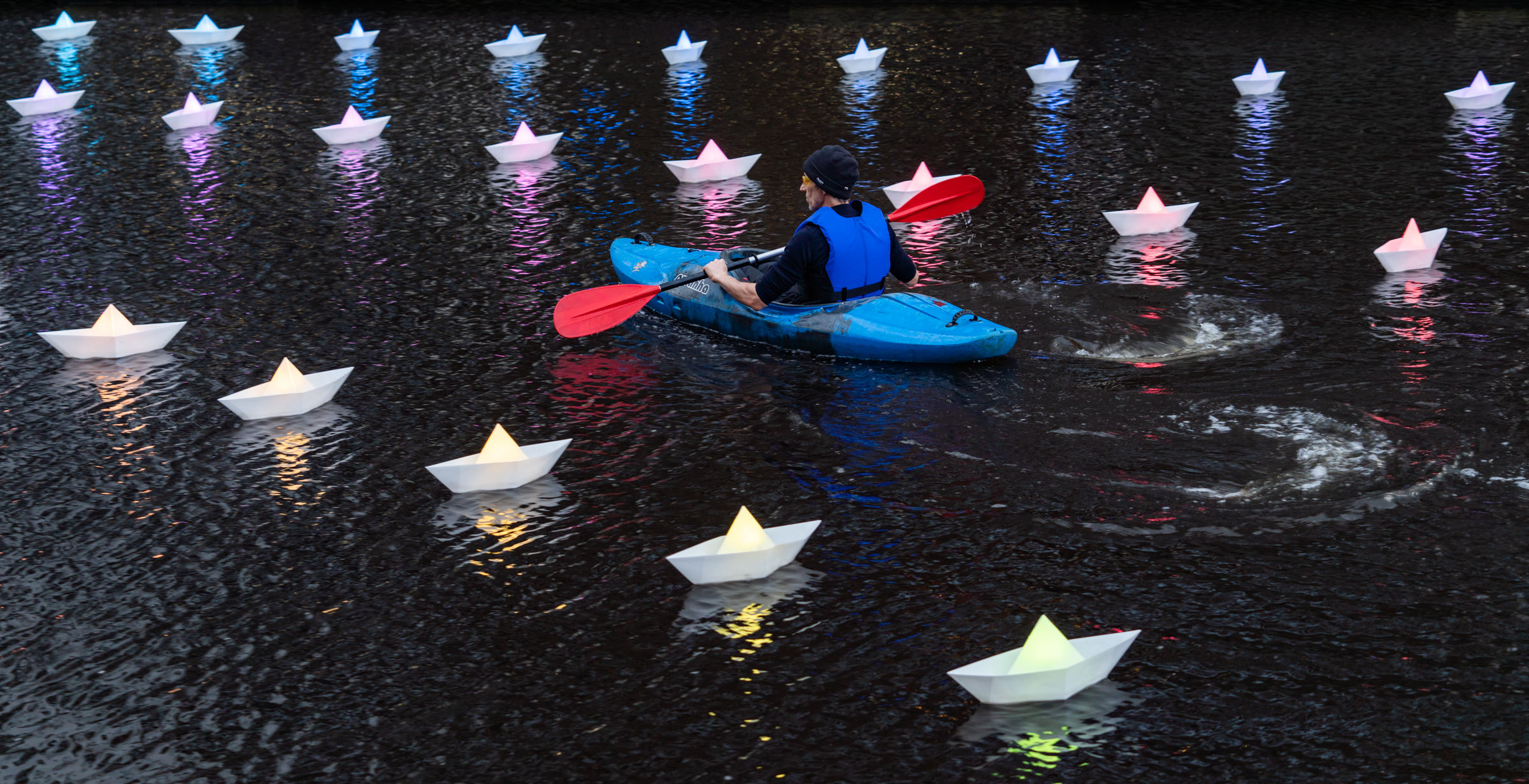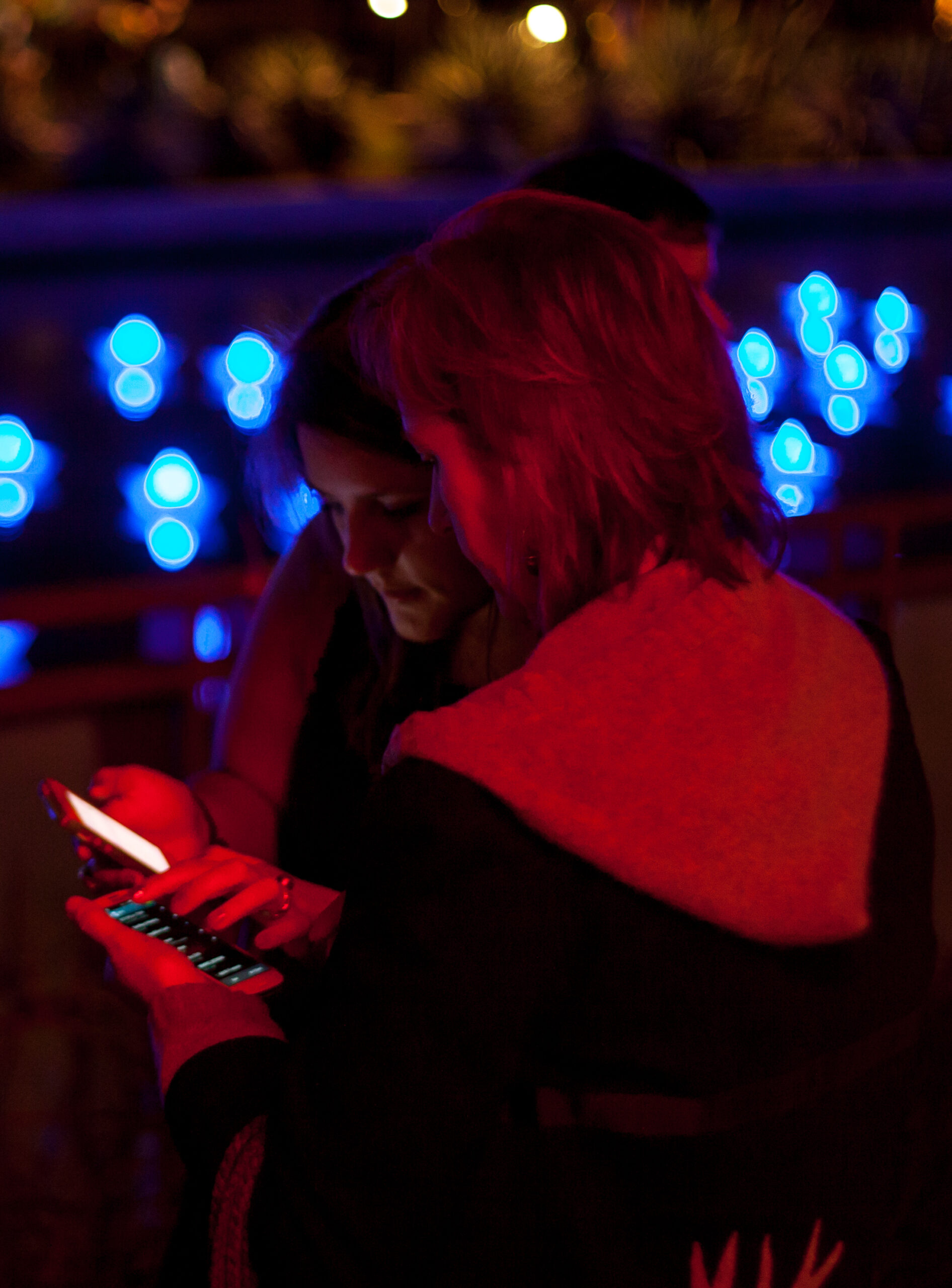 For the artists, the opportunity to partner with Justice & Peace was a logical and welcome next step in their desire to explore ways to have an impact. It is an opportunity to push the boundary of the role of art in public spaces and the potential for art to contribute to collective social experiences that can influence individual thought and action. Both Justice & Peace and the artists hope that Voyage – Safe Haven will encourage visitors to stop, engage, and reflect on what a safe haven is for them.
To view Gloria and Claudio's beautiful and thought-provoking work, visit  www.aether-hemera.com
To see the installation and reflect on the concept of safe havens, visit the Highlights festival from 14 to 18 December in downtown The Hague. https://thehaguehighlights.nl/
Support Justice & Peace's art and initiatives with a donation and contribute to sustainable, just and welcoming societies.